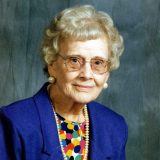 Mrs. Virginia Holley, age 96 of Winnsboro, passed away on Monday, June 26th, 2017 in Winnsboro, TX. She was born on January, 1 1921 in Princetown, Ohio to the late Edwin R. Howey and Pearl Shafer Howey. Mrs. Holley was a retired secretary and was a member of First United Methodist Church of Winnsboro.
She was preceded in death by parents; husband, Jonas E. Holley; sister, Elzada Boxford and nephew, Randy Morrison.
She is survived by, sisters, Luella Ray of Edmond, OK and Betty Smith of Ft. Myers, Fl; sister-in-law June Price of Greenville.
Visitation will be held on Thursday, June 29th, 2017 from 10:00 am to 11:00 am at Beaty Funeral Home-Winnsboro 816 W. Broadway Winnsboro, TX 75494. Graveside Services will be held on Thursday, June 29th, 2017 at Lee Cemetery Highway 37 S. Winnsboro, TX 75494 at 11:00 am, with Rev. Henry and Linda Suche conducting. Interment will follow at Lee Cemetery in Winnsboro, with the Beaty Funeral Home Staff serving as pallbearers.
In lieu of flowers donations may be made to the First United Methodist Church or the Gilbreath Memorial Library.