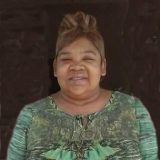 Funeral service for Ronda Clayton, age 45, of Sulphur Springs, TX will be held at 2 P.M. on Thursday, June 8, 2017 at St. Luke Missionary Baptist Church, Sulphur Springs with Pastor Troy Young officiating.  Interment will follow at St. Luke Cemetery.    Ronda passed away on Saturday, May 27, 2017 at her residence in Sulphur Springs.
Sherry Laronda Evette Clayton was born on August 9, 1971 in Sulphur Springs, the daughter of Larry and Pamela (Johnson) Clayton.  She was a member of St. Luke Church and was a C.N.A.
She is survived by her daughter, Shatobia Clayton; sisters, Tammy Clayton and Temeshia Harris; brother, Brandon Harris; three grandchildren; two nieces and one nephew.
Ronda was preceded in death by her parents and brothers, Larry and Arthur Clayton
Arrangements are under the direction of Murray-Orwosky Funeral Home.