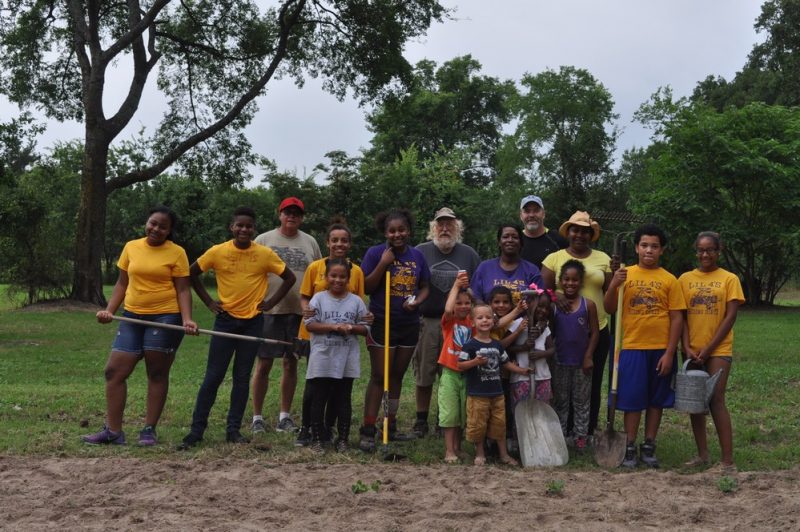 Lil 4's is a nonprofit organization that helps get kids off the streets. They provide food, motivation, and mentorship for kids ages 2 to 18. This Saturday morning, participants learn more about responsibility and nature, the Lil 4's helped the Thesing family plant a garden. The garden is completely for the Lil 4's, allowing them to grow their own vegetables that the kids eat as part of their meals.
"I want to teach [the kids] good values. When they get into the world, nature is the key to life. We always see bad stuff on the news and I want to show them that there's not just bad stuff out there, and there's more they can do to help. I love all of them like they're my own kids." Letitia Conliffe, founder and president of Lil 4's, said. "My house is always full. They're always coming over. Sometimes I have five, other times I have 12. I always say a family that prays together stays together, and this group is more like a family."
"I thank God for Letitia, some of the things she does, she doesn't have to do. She makes sure the kids are happy, and she never complains. She works from her heart…She's just an awesome person." Sandra Cummings, Vice President of Lil Fours, commented. "Letitia started this organization, helping kids, doing school supply drives, and feeding them. Most of the funds come from her own pocket." That's just how dedicated the entire team is.
"It's amazing what these kids can do. They help each other with homework, and the older kids really are good examples for the younger ones." Ben Thesing, coordinator for the project, said as he supervised a group of kids in the garden. "I first heard about it on KSST and we decided we wanted to help. We re-do houses and Latitia said they were looking for things to do outside."
"We ask the community for help to support this cause of keeping the kids off the streets." Letitia stated. Sandra added: "We have to get them out of their environment," to show them the possibilities for a brighter future. This year's goal for the organization is to raise enough money to take the kids to Memphis, Tennessee. The organization plans to teach the kids about diversity and let the kids reunite with their heritage-Native American, Black, White, Latino, or Mixed, Memphis is a culture site, which has a wide variety of historical information about different cultures.
The kids really enjoy being in the Lil 4's; if it wasn't evident from their smiling faces, here's a bit of what they think:
"I really like the Lil 4's because we help each other out and the community. It's a great place and feels like your home. It teaches kids how to be someone and a better person in life." said Kelsie Conliffe.
"We get to learn a lot, and be ourselves. We learn more about each other and have amazing mentors." said Zachariah Goobson.
Devon Hamilton said his favorite part of the Lil 4's was "playing, eating, and having fun and watching movies." The experienced gardener mentioned he also helped with gardens at Travis Elem. and at ECLC.
Brianna Conliffe enjoys "Doing new stuff every day."
Diamone Gotcher, member of 2 years, couldn't pick a favorite reason for being in the Lil 4's. "There's a lot of things." He said smiling.
Trinity Hamilton likes getting "to know more people, and getting to do things."
Zariyah Kates said she likes gardening and "the seeds" were the best part of helping out.
If you would like more information on how to get involved with the Lil 4's, visit their office at 200 Fuller St or visit their Facebook page .