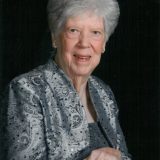 Funeral Services for Janeria Kessler, age 84, of Sulphur Springs, will be held at 1:00 P.M. on Friday, April 28, 2017 at Murray-Orwosky Funeral Chapel with Shawn Tyler officiating.  Interment will follow at Arbala Cemetery with Gary Kessler, David Kessler, Jason Kessler, Ryan Kessler and Daran Kessler serving as pallbearers. Visitation will be held on Thursday, April 27th, from 6 to 8 P.M. at Murray-Orowsky Funeral Home.
Janeria passed away on Sunday, April 23, 2017 at Baylor University Medical Center, Dallas, TX.
She was born November 7, 1932 in San Angelo, Texas to Travis and Ada Thomas, their only child. They moved to McCamey, Texas when she was 1 year old and she lived there until she married Leon Kessler from Savannah, Georgia in McCamey, TX on March 10, 1951.  Janeria and Leon Kessler moved to the Arbala community in 1995.  Janeria was a homemaker and member of League Street Church of Christ.
Surviving are sons, Gary and wife Linda and David, all of Sulphur Springs. Daran and wife Fatima of Calgary, Alberta, Canada and daughter Lorie and husband Dean Smith of Irving; eight grandchildren and seven great grandchildren.
Preceding her in death was her husband of 52 years, Leon Kessler; her parents and a great granddaughter.
Memorials can be made to Christian Relief Fund, Box 19670 Amarillo, TX, Berean Children's Home, Inc., P.O. Box 1009, Brookhaven, MS 39602, League Street Church of Christ Youth Fund, Sulphur Springs, TX.
Arrangements are under the direction of Murray-Orwosky Funeral Home.