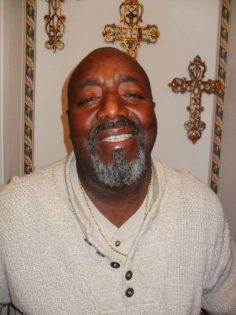 Memorial service for Dennis Arnaz Nash, 61, of Dallas, TX, formerly of Sulphur Springs, will be held at 1:00 p.m., Saturday, April 8, 2017 at Evening Chapel C.M.E. Church with Rev. Fergus Jacobs officiating. There will be no formal visitation. Dennis A. Nash passed away on Tuesday, April 4, 2017 at the Methodist Medical Center in Dallas.
He was born on March 26, 1956 to the parentage of James W. Nash and Mynder L. Pitts Nash in Sulphur Springs, TX. Dennis made Dallas, TX his home after graduating from Sulphur Springs High School in 1975. He gave his life to Christ at an early age at Evening Chapel Methodist Church.
He is survived by his beloved wife, Alicia Beebe Nash, loving mother, Mynder Nash, daughters, Cheria Thomas and Kristen Alicia Low, one son, Joshua Philip Low, three grandchildren, Cairo Thomas, Noah David Feger, and Joshua Philip Low Jr., two sisters, Regina Vaughn (Danny) and Mynder Kelly, aunts, Lillian Fralin, Peggy Hatcher, Debra Ellison, Vivian Moulden, Carrie Harper, Bertha Williams and Mary Ann Crosby, a host of nieces, nephews, relatives, and friends.
He was preceded in death by his father, grandparents, and nephew, Wister Jarian Godbolt.
Cremation arrangements are under the direction of West Oaks Funeral Home.