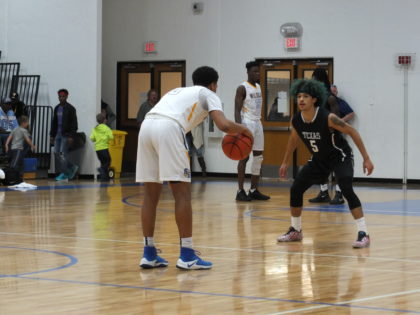 The Wildcats' basketball team build a lead over three quarters against Texas High and then traded baskets in the fourth quarter on the way to a 61-49 win in Wildcats Gym Tuesday night.
After leading the Tigers 12-10 after one quarter, the Wildcats increased their lead to 26-16 at the half. The Wildcats upped their advantage to 45-32 after three quarters.
Post Victor Iwuakor was a tough match up for Texas High and he scored a game high 19 points. Michael Jefferson added 14 points including 3 three pointers. Dedric Godbolt and Keaston Willis had 9 points apiece. Senior Ke'Ontae Dunn scored 4 first quarter points and then seemed to tweak an ankle after coming down with a rebound early in the second quarter. He did not return. Dane Rutherford also scored 4 points and Simeon Taylor had 2 points. Quan Hampton hit 5 three pointers and led Texas High with 15 points.
The Wildcats improved to 8-1 in district play. They have qualified for the playoffs and can finish no worse than third in district. The Wildcats season record is now 23-5 and they have won five games in a row.
After a bye, the Wildcats travel to Mt. Pleasant next Tuesday night hoping to avenge their only district loss of the season.