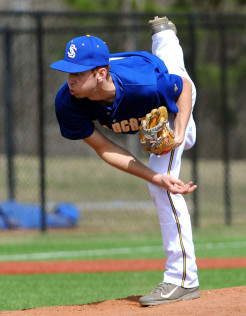 The UIL in Texas seems poised to adopt a 110 pitch count for all high school baseball pitchers for either a game or a series by this school year's season. Wildcats Baseball Coach Jerrod Hammack says the proposal should not have much impact on his program. Coach Hammack already uses a standard of 100 pitches.
He admits the new rule may have an impact in a series where an ace throws on Thursday and then wants to come back for one final inning to close out a game Saturday. That may put the pitcher a few pitches over the limit. Coach Hammack says most coaches use good common sense when it comes to pitch counts. He admits to hearing the stories about the excesses.
Coach Hammack says he mostly uses a pitcher just once a week. He says the proposed pitch count is designed to protect coaches and players alike. There are some questions as to who would keep the pitch count. Coach Hammack keeps his pitchers' count in the dugout during the game.
Statistician Eric Buck also keeps pitch counts. How strict is Coach Hammack with his 100 pitch rule? He remembers removing starter Colby Suggs from a game at Henderson in the playoffs as the tie game went into extra innings. Suggs was at the 100 pitch limit. Henderson won the game with a run in the bottom of the eighth against a relief pitcher.