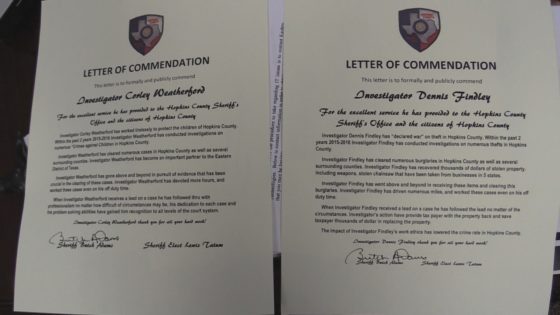 Two Hopkins County Sheriff's investigators were honored Thursday, September 29th at the Sheriff's office. Investigator Corley Weatherford received a letter of commendation from John M. Bales, the U.S. Attorney Eastern District of Texas, and Investigator Dennis Findley was honored by the local Sheriff for his incessant and relentless efforts in clearing numerous burglaries in not only Hopkins County but also surrounding counties.
In his letter to Hopkins County Sheriff Butch Adams, Bales said that in the past two years Weatherford has become an important partner to the Eastern District of Texas. Weatherford's work was instrumental in the prosecution of Chad Calhoun, a preacher who traded child pornography from his church; Lucus Hill, a teacher who manipulated and enticed children, including his own students; and Fernando Sosa-Pintor, a local business owner who traded child pornography from the business.
Bales' letter of commendation said Weatherford was "tireless in his pursuit of evidence, and particularly in cases involving the exploitation of children. He is thoughtful and fair in his approach; taking the time to thoroughly explore cases, treating suspects with dignity and respect, and solving problems with creativity."
Regarding Weatherford's work, Bales said that members of state, local, and federal law enforcement are eager to work with him and welcome his insights. He stated his staff marvel at his professionalism from investigations to writing reports to testifying and participating in all stages of litigation. Weatherford recently attended the United States Secret Service's forensic training program and Bales said he is confident that training will serve well the citizens of Hopkins County and the Eastern District.
Sheriff Adams and Sheriff-Elect Lewis Tatum said in their commendation of Finley the he has declared war on theft in Hopkins County. Within the past two years he has conducted investigations on numerous thefts in the county and cleared numerous burglaries in the county as well as several surrounding counties. The commendation states that Findley has recovered thousands of dollars of stolen property—including weapons and chainsaws taken from businesses in a five state area.
Findley has worked many of the cases during his off hours as well as driven numerous miles to clear burglaries. His actions, according to the commendation, have provided tax payers with the property returned and saved the taxpayers thousands of dollars in replacing the property. His work ethic has lowered the crime rate in the county according to the sheriff.