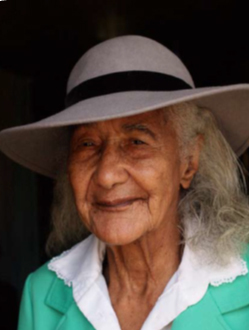 Mary Elizabeth Norris, age 97, the daughter of Elijah James and Beatrice Branch was born in Dangerfield, TX on February 9, 1919. She died in Sulphur Springs, TX on May 26, 2015. She grew up in Barstow, TX prior to living in Fresno, CA and Pecos TX. She was one of 10 children. In 1941 she moved to Winnsboro, TX assist her brother and his wife with their children. While there she married Horacio Norton, and remained with him until he died. There was nothing more important to her than God and family. She never met a person that wasn't a friend, but when you live to be 97, you lose many of those along the way.
She is survived by her nephews: Barclay Benard, Jim Bobber Benard, Gaston Keto Bernard, all of Amarillo, TX, her niece Pinkie Lue McGill of Winnsboro, TX, many great nieces and nephews and nearly as many great-great nieces and nephews.
In heaven she will be joining a host of friends, her mother and father, her 9 brothers and sisters including BeeMoil Benard, her nieces Mae Willie Lovingood, Myrtie Bea Fletcher and Orbree Inez Dixon.
Visitation and services will be held on Thursday, June 2, 2016 at Winnsboro House of Praise, 209 S. Post Oak, Winnsboro, TX 75494, visitation will begin at 1:00 PM, with funeral services following at 2:00 PM, Bro. Gary Hampton officiating, interment will follow at Sandifer Cemetery in Como, with Dexter Friday, Excellent McGill, Samuel Friday III, and Glen Waddleton serving as pallbearers.