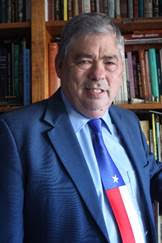 DALLAS, TX— The Universities Center at Dallas and Texas A&M University-Commerce will kick off their Mini-Speaker Series on March 2 with Texas State Historian Bill O'Neal. The Mini-Speaker Series will feature a line-up of speakers covering intellectual, relevant and intriguing topics of today.
An alumnus of A&M-Commerce, O'Neal is currently serving his second term as State Historian of Texas. He has written over 40 books, as well as 300 articles and book reviews. He has also appeared on TV documentaries on TBS, The History Channel, The Learning Channel, CMT, A&E, and currently the series "Gunslingers" on the American Heroes Channel. He has earned multiple awards, including the Lifetime Achievement Award of the Wild West History Association in 2012, the A.C. Greene Distinguished Author Award of 2015, a Piper Professorship in 2000 from his time teaching at Panola College, in addition to being named True West Magazine's Best living Nonfiction Writer. In 2013, A&M-Commerce awarded O'Neal with an honorary Doctor of Letters degree.
"I am delighted and honored to inaugurate the A&M-Commerce Mini Speaker Series on the 180th Anniversary of Texas Independence Day!" said O'Neal.
At the event, O'Neal will premiere his latest book, "Sam Houston, A Study in Leadership." Sam Houston was a general of the victory at San Jacinto, signer of the Texas Declaration of Independence, and the only man to have served as governor for two states, Texas and Tennessee. Though Houston is a Texas icon, he lived a wild and controversial life filled with drama, conflict, and outstanding achievements.
"Sam Houston was a larger-than-life hero, whose story radiates incredible courage and passion and accomplishment," said O'Neal.
The event will take place March 2 at 1910 Pacific Place, Dallas, Texas on the third floor. A complimentary buffet lunch provided by A&M-Commerce will be available at 11:45 a.m. with O'Neal's speech at 12:15 p.m. There will be a book signing at 12:45 p.m. The public is cordially invited.