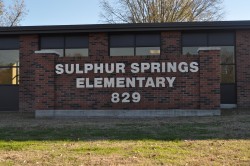 by Allison Bledsoe
On Thursday, after a morning accident on Lee Street, Sulphur Springs Elementary School was without electricity or phone service for several hours during the school day.
Sulphur Springs ISD sent out emails and phone calls to parents notifying them of the outage. Children remained at school and were kept in rooms and areas with windows. The school's cafeteria had already begun cooking lunch and had no outstanding struggles with finishing meals due to majority of the stoves being gas powered. The temperature throughout the building stayed at a tolerable degree due to the weather.
Electrical service was restored around 1:45 p.m.