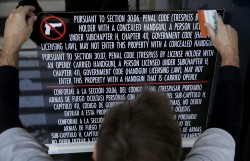 After new laws regarding open carry went into effect at the beginning of the year, a number of businesses in Sulphur Springs have adopted new policies regarding open carry.
Business such as EZ Mart will allow open carry so long as the weapon remains holstered. Tractor Supply has no policies regarding open carry, but has no issue with open carry. Super Handy Convenience Stores has refused to release a statement on open carry at this time. Joe Bob's Convenience Stores is still determining their policy for all of their stores.
Restaurants serving alcohol, such as Muddy Jakes and Lou Viney's will not allow any weaponry inside the building and will have signs posted at the entrances.
Fix & Feed will not allow any weapons in the store and will have signs posted at the front entrance.
First Baptist Church and First United Methodist Church are currently undecided on open carry and will  soon discuss the issue within their separate churches.
Wal-Mart Corporate offices sent a letter to their Texas store managers at super centers selling alcohol, such as the super center in Sulphur Springs, stating that greeters are required to approach customers and ask to see their concealed handgun license as the management deems appropriate.