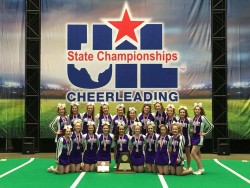 The Mount Vernon High School Varsity cheer squad won the first Spirit 3A State Championship on January 13, 2016 at the University of Texas in Arlington.
The Spirit competition is composed of three competitive categories: fight song, time out band dance and the time out cheer. Mt. Vernon took the top score in the time out competition with a 98.167. They placed fifth in the fight song competition which allowed them to progress into finals.
The Mount Vernon cheer coach is Jenna Wilkins.