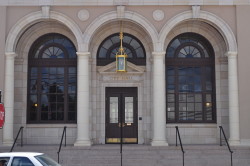 During their forty minute Tuesday night session, January 5, 2016, the Sulphur Springs City Council appointed a member and two alternates to the Zoning Board of Adjustments and approved the remainder of the agenda.
Appointed to the ZBA were permanent member Kevin Mohl and alternate members Brad Burgin and Ben Spraggins. The appointments were made after the ZBA had failed to acquire a quorum for meetings in two of the previous three months. The last failure delayed a vote on a proposed variance to the sign ordinance that would allow an 85 ft. sign for a proposed Starbucks on South Broadway, next door to Chili's.
The council approved a proposed parking improvement along Main, Davis, and Tomlinson Streets that would provide 74 parking stalls at a cost of $300,000. This would allow at least an additional 30 parking spaces for the downtown area. Included in the parking area will be an 8 stall charging station for Tesla Motors. The Tesla charging station was also approved by the council Tuesday following statements made by two out of town individuals who desire to have increased charging opportunities for their travels to Sulphur Springs and beyond and by one downtown business owner who owns a Tesla auto. The charger will be located in the 300 block of Tomlinson.
Bids for fuel farm site work for concrete, earthwork, and electrical were awarded by the city as was a bid for the water line for Bill Bradford Road.