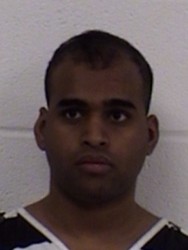 Bond for Mohammad Shabeeh Raza, 25, of Kansas City Missouri was increased to $200,000 after more information was made available to Justice of the Peace Brad Cummings and local law enforcement. Raza was arrested over the weekend for online solicitation of a minor. He was arrested after he finished a fresh shave in the restroom at a local convenience story. He arrived early to meet who he thought to be a female under 17-years of age with whom he had been communicating since April. When he exited the restroom he was welcomed by the open arms of Hopkins County and Sulphur Springs law enforcement (see original story A Close Shave).
Bond was originally set at $75,000 and an ankle monitor would be ordered for his release. However, when ordering the ankle monitor, J. P. Cummings discovered that Raza held dual citizenship in the U. S. and in India. It was also disclosed that he had ties in Pakistan and had traveled to London and Europe recently. The Justice of the Peace deemed Raza a flight risk and required him to relinquish his passport and to remain in Texas should he be released. Raza has a 15-year old sister and father who live in Plano.
Raza, who says he is a systems engineer for a company in Kansas City and claims Plano as his hometown, is in Hopkins County jail now on $200,000 bond with stringent restrictions regarding travel should he be freed on bond.