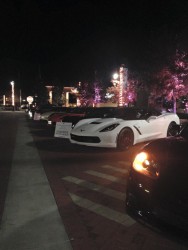 Night two of the Sulphur Springs Corvette Club "Santa for Seniors" garnered more donations of new blankets, new electric blankets, and cash for blankets Tuesday evening on Celebration Plaza, downtown Sulphur Springs. Tim Gee, Vice-President of the Club and organizer for the event, stated that they are nearing the goal of providing a blanket for needed senior adults in Hopkins County.
Gee told KSST listeners Tuesday night that the club had been given a list of those most needy by Karon Weatherman and staff at the city Seniors' Center. These will be the first on the list to receive the blankets. Gee stated the "Santa for Seniors" is a grand opportunity for Hopkins County to give back to those seniors who have given during their younger days. The seniors that will be assisted are on fixed incomes and will face choices when it comes to utility bills this winter.
Club members are parking their Corvettes on the west side of the Plaza. Collection boxes are set at the southwest entrance to the plaza. Also members of the club are in the street at Gilmer Street and Main Street stop signs at the entrance to the plaza to receive donations.
Heather Marie, one of the volunteers at the Seniors' Center who is involved in Santa for Seniors, said, "Okay SS, tonight is the last night the Corvette Club will be on the square collecting new blankets (and donations for blankets) for our Senior Citizen's Center. On your way home, on your way to dinner or to happy hour stop by and show your support. Every dollar counts. See the Christmas lights, hear the music, see some amazing cars, laugh and fellowship with town's people, but more than that be a part of our cause and community."
KSST Radio is also doing a remote from the site.