by Jim Beach, Park Police Officer/Park Interpreter Cooper Lake State Park/South Sulphur Unit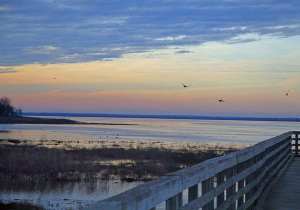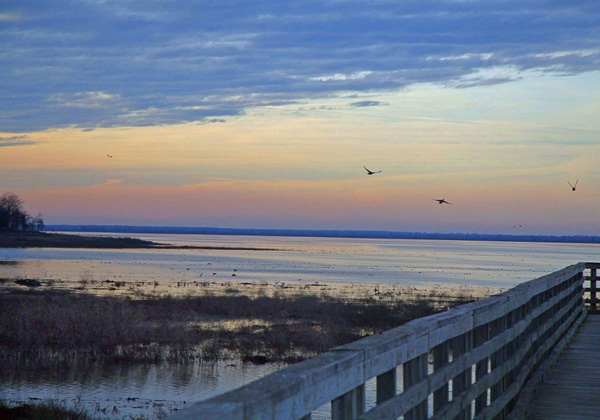 'Twas three weeks before Christmas and all through the park, all the creatures were busy getting ready for winter. There was water galore and birds all around. All of them looking to see what could be found!
Now you know why I don't make my living at being a poet!
With about 6.5 inches of rainfall and even more than that falling on the  watershed  Cooper Lake has experienced the highest lake level since the opening of the lake. As a result Doctor's Creek Unit on the north side has closed while the water recedes and some portions of the South Sulphur Unit are closed. At this time the lake level remains 6.3 feet above normal. The park remains open and programs at the park continue.
Coyote Run hiking trail is closed for the public archery hunt held each year on the east end of the trails. This will conclude on December 20th and the trails will be reopened to hikers and bikers on the 21st. There are also some flooded areas on the trail but hope that by the time it reopens that we will only be contending with muddy areas.
The Dutch Oven program is scheduled for December 12th and Geocaching on the 19th. The day after Christmas Day bring the family out and explore the night sky with us at the afternoon program "Night Sky Activities" and then that evening at the "Wonders of the Night Sky" program.
I wanted to especially bring to your attention a special program that we will be holding on Friday, January 1. We have participated in this Nation-wide event for many years and this year will be no exception. Come out and join with us on New Year's Day and let's go hiking. This is called the "First Day Hike". There will be a guided hike at 9:30 a.m. but feel free to come anytime during the day. Please mention to the attendant that greets you at the park office that you are coming in to do a First Day Hike. Help us set a new record attendance and bring your family and friends. In the event the trail is not suitable for hiking we will hike on the road in the park.
From all of the folks at Cooper Lake State Park we want to wish you and yours the very best and joyful Christmas and New Year! We look forward to seeing you out at the park!