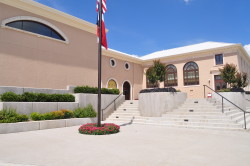 The Sulphur Springs City Council consulted with an attorney on pending litigation during an executive session prior to their regular monthly meeting Tuesday night at 7 p.m. During the regular meeting, the council authorized City Manager Marc Maxwell to execute an attorney contract for legal services with Scott and Ray Law Firm of Greenville.
In other business, on second reading, the council approved an ordinance authorizing the exchange of property between the Municipal Airport and an adjacent property owner. City Attorney Jim McLeroy told KSST that the exchange would serve to straighten the boundary line between the properties.
The council also voted to ask the state to designate the city as the management agency for wastewater collection and treatment within the city limits. The designation is required for the city to apply for an $18.2-million Water Development Board loan the city is seeking to help pay for the $14.4-million renovation of the city's aging Wastewater Treatment Plant. Loan money not used will be returned to the state.
In his Manager's Report, City Manager Marc Maxwell said work on the last segments of the Rockdale Road reconstruction project are underway. Water utilities have been replaced. Concrete forming and pouring has begun. He added work on Plano Street is also underway. A new sewer main has been installed and a new water main is partially complete. The street will also be reconstructed. Maxwell said Bill Bradford Road is on deck. That $1.4-million project will include new water and sewer mains, drainage improvements and a new asphalt street.
Maxwell also said reconstruction work in now underway on the police department remodeling job.