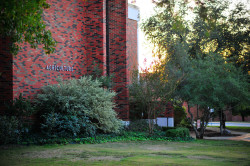 Texas A&M University-Commerce is pleased to offer a number of free courses and scholarships for graduate students through Funding Your Future.
"We are excited about the Funding Your Future Initiatives which are available Spring 2016 through Spring 2017," said Associate Dean of Graduate School Dr. Mary Beth Sampson. "The funding opportunities include scholarships for graduate students in physics, chemistry, biology, mathematics, agricultural sciences and doctoral programs along with free graduate courses for Texas teachers in high need areas such as science, mathematics, reading, bilingual education, special education and Spanish."
New graduate students beginning doctoral or master's level classes in the spring are eligible to apply for the scholarships. Free courses for Texas inservice or preservice teachers are available to new or current A&M-Commerce graduate students.
"The Funding Your Future initiatives demonstrate Texas A&M University–Commerce's commitment to our region and state by providing financial support to help graduate students and Texas teachers obtain expertise in high need fields," said Sampson.
Applications are accepted on a rolling basis until funds are depleted.
For more information about Funding Your Future, visit www.tamuc.edu/fundingyourfuture  or contact [email protected].