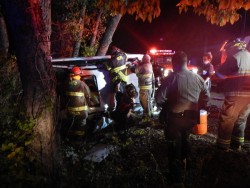 A one vehicle rollover at County Road 4759 and Peerless Highway blocked traffic on the Farm to Market Road between Loop 301 W/Hillcrest Dr./State Highway 19 forcing residents of the Pleasant Grove Community to use an alternate route to gain access to their homes. The vehicle, west bound, came to rest on its left side against trees.
The driver of the vehicle was talking, and had been talking, with responders prior to be extracted from the auto at approximately 8 p.m. Tuesday, November 10. Her husband arrived at the scene of the accident minutes prior to her extraction. She was placed on an air ambulance helicopter. It is thought she had a head injury and severe leg injury. A tow truck was used to pull the steering column away from her legs according to an eye-witness.
It is suspected that the driver of the vehicle tried to negotiate the turn at a too high rate of speed. The vehicle hit a wet ditch as the driver lost control. The vehicle became airborne and went into the trees.
Volunteer first responders from Cumby along with the Hopkins County Fire Department were at the scene using the jaws of life to attempt to extract the female occupant from the vehicle around 7 p.m.