During Rodeo week in Sulphur Springs, the "Sawyer Family Band" and "Miss Devon and the Outlaw" will provide quality Western musical entertainment for youngsters and grownups too.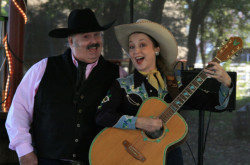 On Saturday November 21, Devon Dawson, the singing voice of Jessi the Yodelin' Cowgirl in Toy Story 2, will conduct a workshop with 90 minutes of musical instruction for children and youth at Wesley United Methodist Church from 1pm-2:30pm. Youngsters who have a musical instrument are invited to bring that and youngsters who like to sing can also take the class to improve vocal and performance skills. Cost for the class is $25 per child and $20 for additional sibling. The students will also perform the song they learn as a group that night at the Reilly Springs Jamboree. Contact Enola Gay to register at 903-438-3568.
All ages are invited to that night's Jamboree starting at 7pm. Devon Dawson, also conducts a children's music mentoring workshop sponsored by the City of Ft. Worth and tours with her partner Jesse.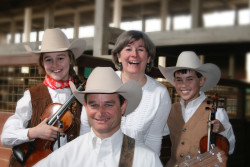 The Sawyer Family Band features champion fiddlers David and Leah Sawyer (ages 10 and 12) and their parents David and Kathy Sawyer. They will perform Western and Cowboy Christian music at the Reilly Springs Jamboree on Saturday night November 21 as well as at morning worship at Wesley United Methodist Church on Sunday November 22 at 9:30am.