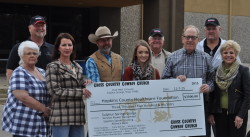 An unexpected Thanksgiving blessing graced the Hopkins County Memorial Hospital Foundation with an additional $3500 Wednesday, November 25, at noon in the indoor arena at the Regional Civic Center.
On November 7th the Cross Country Cowboy Church located on Highway 19 held a rodeo and, for the second year, the Foundation was selected to be the beneficiary of the event. Rowdy France, organizer of the event, and sponsors of the event–Alliance Bank, Service Power Equipment & Branson Tractors, Stephen Sparks Trucking, and Sulphur Springs Dodge–presented the gift to Jackie Thornton, Foundation Executive, and Bob Weaver, Foundation Board Chairman.
Jackie Thornton, Foundation Executive, said this is "Just another great example of this generous and caring community."
As designated by the donor, the funds donated will be used for cancer related needs.  Whether paying for gas for chemo treatment or purchasing a wig for a cancer patient, the funds will be available through the Foundation and the generosity of Cross Country Cowboy Church.