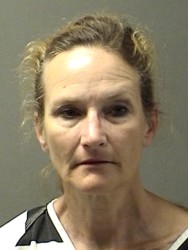 She did not wait for her December 7th trial date. Instead of waiting, Jackqulyn Henry Erwin, 52, of Talco pled guilty to two first degree felony delivery cases and was sentenced to 20 years in the Texas Department of Criminal Justice. Her guilty plea was made in 8th Judicial District Court before Judge Eddie Northcutt Monday. She was scheduled for a final pre-trial hearing Monday.
In September of this year, Erwin and a 59-year old Sulphur Springs man, Randall Scott Green, were placed under arrest after 134 grams of methamphetamine and $3400 in cash were found in the car in which they were traveling. They were stopped for a traffic violation at the 112 mile marker near Cumby on eastbound I-30 at around 8 a.m. September 16th.
Lawmen suspected illegal activity but the suspects refused to allow a search of their car. A police K-9 officer was brought to the scene and alerted on the trunk of the car. A search of the car produced the meth and money.