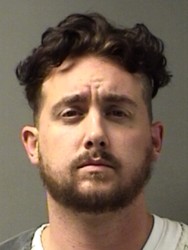 A 31-year old Pickton man was arrested Tuesday in connection with a recent Hopkins County home burglary. The burglary occurred at a residence on State Highway 154 South. Justice of the Peace B.J. Teer set bond for William Kyle Parks at $50,000. Stolen goods work at least $25,000 were recovered by Hopkins County Sheriff's deputies. Sheriff's Chief Criminal Investigator Lewis Tatum stated that the owner of the stolen property, including a Carlos Santana autographed guitar, posted pictures of the stolen items on social media. A Hawkins business that had purchased the stolen items notified local authorities. 
Sheriff's Criminal Investigator Dennis Finley and SSPD Detective Monty Tipps began the investigation Tuesday with a trip to Hawkins. Tipps went along because of his expertise in musical instruments and equipment. A photo lineup shown to the purchaser led Tatum, Finley, and a patrol deputy to travel to Pickton with a search warrant in hand. Parks, from Sulphur Springs but living in Pickton, was arrested at the time. 
Tatum said the cooperative effort led to the recovery of amplifiers, power equipment, guitars, fishing equipment, shop equipment, televisions, and other items.