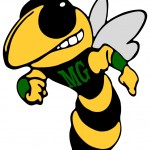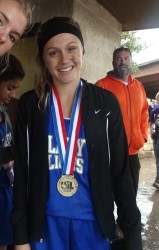 Saltillo Lady Lion Siena Collins won the State 1-A Cross Country race in the girls' division with a 12.52.18 time Saturday, November 7 in Round Rock. Hot on her heels were Ashley Puser and Aleigh Bessonett of Miller Grove. Miller Grove High School Lady Hornets won the state team title. For the Hornets of Miller Grove, it was a second place finish in the boys 1-A division.
Saltillo Lions and Lady Lions placed seventh in their individual divisions.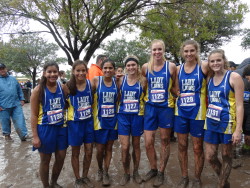 Two Sulphur Bluff Bears also ran in the event.
Team standings:
UIL STATE – 1A GIRLS
Team – Cumby Miller Grove Lady Hornets
Finish Position – 1
Team Score (places): 39
Team Score (times): 1:10:29.45
Ave Time:14:05.89
Bib No
Name
Year
O'All Place
Cum Place
Time
Cum Time
Time Back
1
1019
Ashey Purser
11
2
2
13:39.14
13:39.14
0:00.00
2
1016
Aleigh Bessonett
11
5
7
13:56.10
27:35.24
0:16.96
3
1021
Cassidy Seaney
9
7
14
14:09.42
41:44.66
0:30.28
4
1017
Candace Earp
11
12
26
14:20.72
56:05.38
0:41.58
5
1020
Rosa Schones
9
13
39
14:24.07
1:10:29.45
0:44.93
6
1018
Keyleigh Lester
11
(28)
(67)
15:28.90
1:25:58.35
1:49.76
7
1022
Alex Zeigler
11
(33)
(100)
15:33.13
1:41:31.48
1:53.99
Finish Position – 7  Saltillo Lady Lions
Team Score (places): 164
Team Score (times): 1:15:36.56
Ave Time:15:07.31
Bib No
Name
Year
O'All Place
Cum Place
Time
Cum Time
Time Back
1
1127
Sienna Collins
9
1
1
12:52.18
12:52.18
0:00.00
2
1126
Brenda Castro
11
8
9
14:09.60
27:01.78
1:17.42
3
1131
Madison Simmons
10
25
34
15:18.95
42:20.73
2:26.77
4
1130
Katy Perea
12
52
86
16:08.26
58:28.99
3:16.08
5
1125
Paula Boekhorst
12
78
164
17:07.57
1:15:36.56
4:15.39
6
1129
Claire Jones
12
(82)
(246)
17:12.01
1:32:48.57
4:19.83
7
1128
Ana Gallegos
11
(87)
(333)
17:34.24
1:50:22.81
4:42.06
For the Boys 1-A State Cross Country Finals:
Team – Cumby Miller Grove Hornets
Finish Position – 2
Team Score (places): 35
Team Score (times): 1:36:26.52
Ave Time:19:17.30
Bib No
Name
Year
O'All Place
Cum Place
Time
Cum Time
Time Back
1
1184
Albert Serrano
10
2
2
18:48.79
18:48.79
0:00.00
2
1179
Luke Brignon
10
3
5
19:04.93
37:53.72
0:16.14
3
1181
Brennan Green
12
5
10
19:09.81
57:03.53
0:21.02
4
1182
Trey Lester
12
10
20
19:32.50
1:16:36.03
0:43.71
5
1183
Jake Pelerose
11
15
35
19:50.49
1:36:26.52
1:01.70
6
1180
Grant Earp
9
(19)
(54)
19:57.13
1:56:23.65
1:08.34
7
1185
Grant Sharp
9
(45)
(99)
21:20.22
2:17:43.87
2:31.43
Team – Saltillo  Lions
Finish Position – 7
Team Score (places): 209
Team Score (times): 1:46:30.46
Ave Time:21:18.09
Bib No
Name
Year
O'All Place
Cum Place
Time
Cum Time
Time Back
1
1286
Adam Valenzuella
11
29
29
20:47.50
20:47.50
0:00.00
2
1280
Lane Bench
12
32
61
20:54.69
41:42.19
0:07.19
3
1283
Walker McGill
10
37
98
21:05.37
1:02:47.56
0:17.87
4
1284
Trevor Moore
48
146
21:29.95
1:24:17.51
0:42.45
5
1282
Branson McGill
10
63
209
22:12.95
1:46:30.46
1:25.45
6
1285
Hendrick Rios
10
(73)
(282)
22:43.56
2:09:14.02
1:56.06
7
1281
Lyle Bench
10
(111)
(393)
28:22.39
2:37:36.41
7:34.89
Team – Sulphur Bluff Bears
Finish Position – Inc.
Team Score (places): Inc.
Team Score (times):
Bib No
Name
Year
O'All Place
Cum Place
Time
Cum Time
Time Back
1
1294
Brennon Seymore
10
Less Than 5
22:12.76
22:12.76
0:00.00
2
1295
Turner South
10
Less Than 5
22:19.23
44:31.99
0:06.47