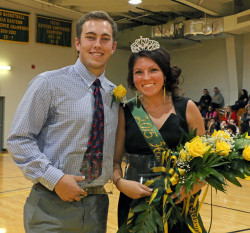 During half time of the Paris Junior College men's basketball game against Weatherford College on Saturday, Cameron Copeland and Kelsie Adams were crowned Homecoming King and Queen.
Adams is a 2013 graduate of Sulphur Springs High School and the daughter of Kenneth Ray Adams and Dana Nash Adams of Sulphur Springs. She is a two-year member of the Blend Club and works as a mentor and coach for Bright Star Baseball/Basketball Association for special needs children in Hopkins County.
She also volunteers for the NE Texas Livestock Association and is an active member of the First Baptist Church in Sulphur Springs. After PJC, she plans to pursue a career in Pediatric Physical Therapy, specializing in children with special needs
Copeland is a 2014 graduate of Spring Hill High School and the son of Danny and Brenda Copeland of Longview, Texas. He is a two year member of the Dragon baseball team and a member of Phi Theta Kappa honor society.
He is a Coca-Cola Scholars Foundation recipient. After PJC, he plans to continue his education at a four-year university pursuing a degree in Public Health with long term preparation to attend medical school.