Chamber Connection  
November 19, 2015 by Meredith Caddell
Attention All Chamber Members….Membership Directories are being prepared NOW!!!
Chamber Members, we are going to print a little earlier than normal for the 2016 Membership Directory.  We are going to have it ready for distribution the first part of January, so we need you to do a few things…
Please go to

www.sulphursprings-tx.com

and click on the membership directory.  Please check to make sure that we have the correct information for your business.  We have been trying to check and recheck it but I'm sure we have made some errors, but we want to fix them.

If your membership investment is past due, payment arrangements need to be made prior to
December 9th.
If you find information that needs to be corrected, please call the Chamber at 903-885-6515!

If you want to place an ad in the directory, please contact Lee Ann Peugh at 903-885-8663.
Feed My Sheep Cookbooks available at the Chamber of Commerce!
Chef Lyndsay Caldwell, the author of the Dinner Bell's first cookbook FEED MY SHEEP is on sale NOW and would make the perfect Christmas Gift.. This professional hard bound cookbook will be one that every cook will want and want to give for the holidays.  The cookbook is only $25.  Your purchase of a cookbook will feed 14 people, at The Dinner Bell.  If you purchase 5 cookbooks, the 6th one is FREE.  The Dinner Bell is a ministry of First United Methodist Church of Sulphur Springs to help end hunger in Hopkins County.  Since their beginning in February 2012, they have served over 20,000 meals to those in need.  
Thank you to everyone who attended the ribbon cutting for the Red Cross office.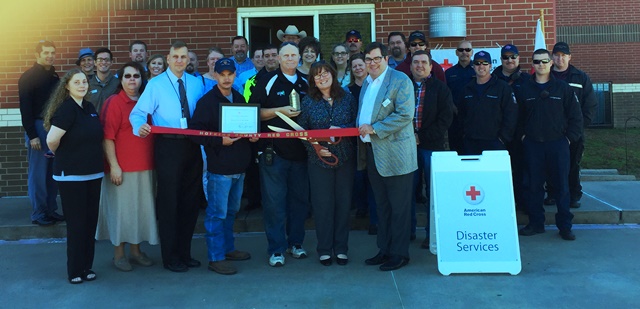 We are so excited to announce the grand opening of a New Hopkins County Red Cross office, located at 1286 Texas Street, Suite C.  Yesterday, guests were greeted by 2 regional directors of Red Cross, who presented Dawn & Craig (Moose) Morgan with a lifetime achievement award for their service to the Red Cross.  We then cut the ribbon to signify the initial opening of their new office.  They now have a place for those who have suffered through a disaster to come to find the help they need, in a beautiful new office.
Western Rodeo Day…Friday, November 20th!!!  Let's Make the Cowboys & Cowgirls feel welcome!
Remember the old Rodeo Days?  When we all dressed up western, wore our boots, hats & bandanas?  Well, we want to see what business in town can take us back to those days!  It is so important for us to show the rodeo cowboys and cowgirls how thankful we are that they are in Sulphur Springs for their finals rodeo.  We want every business in town to welcome them to Sulphur Springs!  We would like for every business to dress up, decorate the front of your business and/or windows, put "welcome rodeo fans" on your signs/marquees…anything you can do to transport Sulphur Springs back into the old rodeo days on Friday, November 20th.  That is the first night of the rodeo and we want the contestants and fans to see that we support them!  Come on Sulphur Springs…dust off your boots, put your cowboy hat on straight and let's celebrate the rodeo.  59th United Finals Rodeo-Nov 20th, 21st & 22nd at the Hopkins County Civic Center
Sulphur Springs Symphony League Auction, November 21st  @ 6pm
The Sulphur Springs Symphony League will hold its annual fundraising auction on November 21 at 6 p.m.  On that Saturday, listen to KSST Radio 1230, watch Suddenlink Channel 18 or follow on KSST.com to bid, win and enjoy the fun of the auction.  This year's auction features several new and unusual items and experiences, so be sure and tune in.  The list of auction items will appear in the News-Telegram, Millennium Shopper, and frontporchnewstexas.com.  Items will also listed on the Symphony League's website at www.SulphurSpringsSymphonyLeague.org and Facebook page.  Have that information available during the auction, so you can keep up with the fast-paced, all volunteer chaos that occurs for only six hours each year.  To bid that evening, call 903-885-0700 and speak with our Hopkins County celebrities on the telephone bank.  
Proceeds from the auction allow the Symphony League to produce the Independence Day Celebration and Fireworks show as well as the Children's Concert.  The Symphony League also supports the SSISD strings program through an annual scholarship and other endeavors.  
For information about getting your business represented in the auction or for questions about the auction process contact Linda Galligher at 903-439-6713 or Kayla Price at 903-885-1586.
Music Workshop with The Sawyer Family Band, Saturday, November 21st @ Wesley UMC
Register your child for 90 minutes of musical instruction by award winning Western recording artists and performance mentors.  Bring your singin' voice and guitar or toher instrument if you have it.  The workshop will be Saturday, November 21st @ Wesley United Methodist Church from 1-2:30.  It is $25/child and $20/additional sibling.  To register, please call 903-438-3568.  Miss Devon & The Outlaw and The Sawyer Family Band will both be performing at the Reilly Springs Jamboree on that evening at 7pm.  Admission is $10/person.  The Sawyer Family Band will also be performing during the 9:30 service Sunday morning at Wesley UMC.  For more information, please call Enola at 903-438-3568 or visit reiillyspringsjamboree.com
Twogether in Texas Marriage Education Workshop
Registration for the next workshop is now taking place.  The workshop will be held on Saturday, November 21, at the Texas A&M AgriLife Extension Service, 1200-B W. Houston, Street, in Sulphur Springs, 8:30 a.m. to approximately 3:30 p.m.  The workshop is free and engaged couples will receive a certificate to save $60 upon applying for a marriage license.  The certificate is good for one year from the issue date.  Topics include marriage expectations, communication, conflict resolution, money management, and goals & dreams.  Please call 903-885-3443 to sign up.  Lunch and refreshments will be provided.
5th Annual Hopkins County Turkey Trot 5K Run/Walk, 10K Run and Kids Fun Run, Thanksgiving Day!
Make room for your holiday meal by participating in the Turkey Trot benefitting Braden Tinsley and in honor of Micah Reed.  This run/walk is presented by Mother's Culture Club.  The 5K will begin at 8am with a $30 entry fee.  The 10K Run will begin at 8am with a $40 entry fee with a pace <12 minute/mile.  The kids Fun Run will begin at 7:30 with a $5 entry fee for 10 years and under.  It will begin at Celebration Plaza downtown Sulphur Springs.  You may register at Fieldhouse Sports or register online at www.rctregister.com.  Early registration ends November 5 with a t-shirt guaranteed for 5k/10k early registration.  Packet pick up Wednesday, November 25 from 5-8pm at SSFBC the ROC.  This event is sponsored by many caring individuals and local businesses.
Open House & Ribbon Cutting for the New Hopkins County Jail, December 1st at 5:30pm
Hopkins County cordially invites you to attend the Dedication and Open House of the new Hopkins County Jail,
Tuesday, December 1, 2015. The dedication and ribbon cutting ceremony at 5:30 pm.  The new facility will be open to the public for tours from 3:30 pm to 6:30 pm.  The Hopkins County Jail is located at 298 Rosemont
Sulphur Springs.  The new facility includes, a 192 capacity jail and law enforcement offices serving the needs of Hopkins County.
CASA Cookie Walk, December 4th from 9am-Noon at FUMC Family Life Center
Please stop by the Family Life Center at First United Methodist Church, Friday, December 4th between 9:00am and Noon for a Room full of Cookies!  Cookies are $5/pound and all of the proceeds benefit our local CASA program.
Christmas in the Park, Saturday November 28th & Saturday, December 5th from 5:30-8:30pm
Each year they open the Historical Park to visitors of Christmas in the Park. The event begins at sunset and lasts for three hours. While in the park, visitors can enjoy a spectacle of lights, strolling carolers, musicians, a live nativity scene and Santa Clause. Free hot cocoa, coffee, punch, cookies and other goodies are served in various building on the grounds. Most of the historic buildings are open, with volunteers dressed in period costumes to help give the feeling of stepping into the past. The festival will run from 6 pm to 9 pm. The $3 admission ticket is eligible for one of our many door prizes to be given away, compliments of local business owners.
The blacksmith shop is alive with the glow of metal and the sparks of burning coal as the blacksmith demonstrates his trade. The general store is filled with turn of the century items and is warmed by a wood stove to warm chilly visitors. Christmas decorations, some handmade, will be for sale there. A cozy one room log house is warmed by fireplace with someone serving warm treats. The chapel is alive with the sounds live Christmas music. The Atkins House has a beautifully decorated Christmas tree with hostesses serving punch and cookies. There, visitors can hear a dulcimer and violins playing Christmas music. In the Wilson House the children can tell Santa what they want him to bring them. There you can drink hot cocoa on the porch while looking at the beautiful light display. Even the 1929 fire truck is decorated with lights. Peanuts roasted on a wood stove are for sale at the servant's quarters. Hot popcorn is also available at the print shop.  Come and step back in time to enjoy the start of the Christmas season.
Lion's Club Electric Lights Parade and Christmas on the Square, Friday, December 4th
Line the streets of Connally and around the Square for the beautiful electric lights parade.  If you are interested in entering the parade, stop by the Chamber office for the rules and entry form!  
Along with the parade will be Tree Lighting, Snow Slide, White Tigers, Petting Zoo, Pony Rides and Vendors All beginning at 5:30
Christmas Lights Contest presented by The Sulphur Springs Downtown Business Alliance
The Downtown Business Alliance will host a Christmas lights Contest for the residents & businesses in the Sulphur Springs Downtown Historic District.  They will have 2 contests:  one for residents and one for businesses.  1st Place-$500, 2nd Place-$200, 3rd Place-$50.  Judging will take place on December 11th & 12th.  Participants' lights must be on from 5:30-10pm.  Displays will be judged on: 1) use of lights 2) creativity and 3)Theme or Scene Used.  Winners will be announced Saturday, December 19th.  In order to be judged for the contest, you MUST contact Linda Galligher at 903-348-3733 or email her at [email protected].
The Chamber of Commerce office will be closed Thursday & Friday for Thanksgiving.  We hope you all have a very Happy Thanksgiving!
We would like to welcome our newest Chamber of Commerce Members:
La Quinta
1344 Eaton Drive, SS
Cynthia Alcorn, Manager
903-885-8181
Hotel
Chocolate Finale
126 Jill Lane, SS
972-780-9350
Brad & Deana Herd
Chocolate Fountain Rental
That's all for now…have a GREAT week!