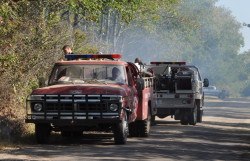 County Judge Robert Newsom has issued a burn ban for Hopkins County. In the Emergency Order issued, Newsom states that "…a state of disaster has been declared on the imminent threat of disaster from wildfire…" The ban is intended to impose "…controls on activities which tend to increase the likelihood of such fires…" The burn ban is for all unincorporated areas of the county for seven (7) days ending at midnight on October 15.
In the order it states that "A person violates this order if he or she causes the burning of any combustible material outside an enclosure that serves to contain all flames and/or sparks, or orders such burning by others." Local fire departments will respond to all outdoor burning and take immediate measures to contain or extinguish the fire. Law officers are also instructed to investigate the nature of the fire and issue warnings. On the second violation or on a flagrant violation of the order, prosecution can be expected. Under the ban, the burning of trash and/or other fires outdoors are forbidden.
County Judge Newsom made the decision to issue the burn ban after County Fire Chief Kevin Yates informed the judge that 12 fires have occurred over the past two days and that conditions have deteriorated to the level that demands the order. Newsom said the county has been able to avoid the order until now.
County Commissioners will consider the ban Monday in a meeting of commissioner's court. Newsom stated that he hopes rain will occur so that the ban can be lifted.