A new EMS 1st Response Vehicle Has Arrived, Additional Telemedicine Units Increase Patient Services & Flex Coils Improve Imaging! 
Tuesday, August 11, 2015, 11:45am, Memorial Hospital Main Entrance,  –  The Health Care Foundation board of directors, Brian & Leesa Toliver, 2014-2015 Lights of Life Chairs, Michael McAndrew, CEO Memorial Hospital and Brent Smith, EMS Director celebrate the arrival of the new first response vehicle purchased with funds raised through the 2014-2015 Lights of Life campaign & gala.  "We strive to be good stewards of the donations we receive through the Lights of Life campaign so it's always exciting to show our generous  donors and the community how their donations were used", said Bob Weaver, Foundation Board Chairman.  "Brian and Leesa did an amazing job last year and through their hard work and commitment the telemedicine units are in use, the flex coils are making a difference and now with the arrival of the beautiful new suburban for EMS, hopefully Brian and Leesa can relax" continued Bob.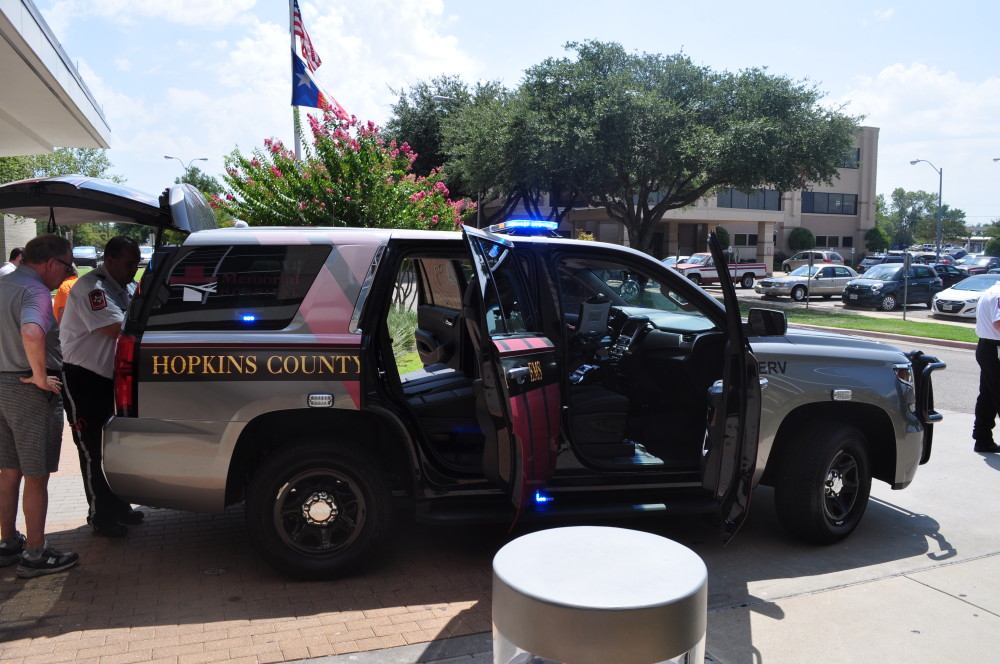 "We are excited the EMS 1st response vehicle has finally arrived" exclaimed Leesa Toliver.  "it's a good feeling when you finally get to enjoy the fruits of your labor.  This community is so generous and we are happy to share this excitement with them" added Brian.
"We are thankful to the Health Care Foundation for their continued support of the hospital.  They remain dedicated to providing equipment that when needed has proven beneficial to the entire community" said Michael McAndrew.
"The Heath Care Foundation continues to make a difference for the community by providing equipment that makes a tremendous difference for the community.  We are grateful for the vision of the board members and their continued support" stated Brent Smith.  "We're excited about the new 1st response vehicle and that Continued -This year the board has committed to donate funds from the campaign that will be used to purchase six CPR devices that will certainly help save lives", continued Brent.
The presentation of the new EMS vehicle was attended by EMS Team members Brent Smith,  Danny Wilburn, Glen Glossan and Jeff Sanderson. Also the Lights of Life Chairs Brian and Leesa Toliver attended. Lights of Life Foundation Board members Bob Weaver, Markeda Fisher, Lynda Hager, Dusty Rabe, Freddie Hughes, Dr. Darren Arnecke, Keith Shurtleff, John Sellers, Clay Johnson, Craig English, Chris Diamond and Jackie Thornton were also present.
The funds raised from the 2014-2015 Lights of Life Campaign have been used to purchase:
Three additional telemedicine units which adds cutting edge care to the patients through technology that takes the patient to the doctor via the web.  Funds were advanced last October when the first of three telemedicine units were purchased.  The final two units were purchased in March.  "After the addition of the new telemed units we are now regularly hitting 350 encounters per month!" stated
Dr. Chris Gallagher,  Chief Medical Officer.
Three Flex Coils that allow proper imaging of patients who otherwise would have a difficult time meeting the requirement of laying still during an  MRI exam . "The flex coils have been in use since April and  have not only given us the ability to image body parts/structures we were  unable to image before but have also allowed us to get much better image quality with some of our more challenging imaging parameters", stated Adam Larson, Director of Radiology.

 And additional funds were added to the Foundation "Leaving a Legacy" Endowment Fund in March.  
"The 2015-2016 Lights of Life Campaign & Gala efforts are in full swing.  With it being the 20th anniversary of the tree lighting and the 10th anniversary of the gala, the event "sold out" even sooner this year" said Jackie Thornton, Foundation Director.  "We continued to be blessed every year by the generosity of this community"!  
Gloria Mitchell, Donna Rudzik and Polly Swatsell, the 2015-2016 Lights of Life campaign & gala chairs are doing an amazing job.  With the gala already being sold out, the chairs and committee are now focusing on the mini-events that support the campaign.  "We invite the community to join us at the following events as we strive to make a difference for the hospital" added Thornton
2015-2016 Lights of Life Mini-events planned are:
Style Show – September 17, 2015, 6:30p.m. at First United Methodist Church – hosted by Lou Nell's – $25 ticket donation. Tickets may be purchased at LouNell's,  from campaign committee members or by calling the Foundation office, 903-438-4799.
Lights of Life 2nd Annual Half Marathon – October 3, 2015, 7:30a.m. – Celebration Plaza – Entry form available at Fieldhouse Sports or register online at  www.rctregister.com; $75 individual entry, $80 – 2 person partner relay; $100 – 4 person team relay.
"Sassy Classy" Tea – October 8, 2015 – City Hall – $40 donation – RSVP required. Call Foundation the office, 903-438-4799 to RSVP.