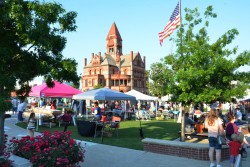 Morning and Evening Markets at Celebration Plaza will not take place this Saturday, June 27th. However, some of the farmers and vendors do plan to set up on Main Street at Coleman Dam. Fresh vegetables, eggs, canned good, and baked goods will be available. The morning only market will open at 7 a.m. and continue until noon this Saturday.
The markets are preempted this weekend by the Independence Day concert featuring the Northeast Texas Symphony Orchestra. The patriotic tribute along with fireworks is an annual tradition that takes place on the Saturday before the 4th of July.
Both Morning and Evening Markets will return next Saturday, July 4th and continue each Saturday through July, according to Hillis Bass promoter of the market.