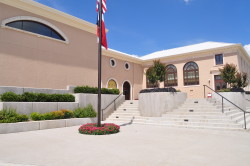 For the first time in city history, ladies now are mayor and mayor pro tem.  Kayla Price was selected as mayor and Emily Glass was mayor pro tem during the June 2nd regular session of the Sulphur Springs City Council.  Outgoing mayor Freddie Taylor received a gavel.  Councilmen Craig Johnson, Clay Walker and Oscar Aguilar were sworn in for new terms.
The Sulphur Springs City Council took a step toward improving its' 1970's model Wastewater Treatment Plant by hiring Garver Engineering to design a rehabbed facility.  The improved facility could cost as much as $18.8-million.
In other business, the council voted to establish a reinvestment zone for Aluf Plastics on first reading.  Aluf is hoping to double its equipment at its' Elm Street plant.  The council passed a resolution requesting to become a participant in the Texas Department of Housing and Community Affairs' HOME funds.  Qualified applicants can have their substandard home torn down and replaced by a new one.  The council approved a negotiated settlement between a cities steering committee and Atmos Energy that resolves Atmos last two rate increase requests.  The council also approved appointments to eight boards, a corporation and a commission.  Finally the council reappointed Municipal Court Judge Phyllis Rogers, who was also sworn in for another term.