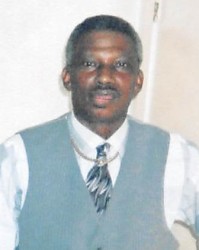 Funeral service for Eric Bernard "Weasel" Mack, 57, of Sulphur Springs, will be held at 11:00 a.m., Tuesday, June 9, 2015 at the Greater Rising Star in Ft. Worth, TX with Pastor Harold Nash officiating. Interment will follow at The DFW National Cemetery at 2:30 p.m.
Eric passed away on June 1, 2015. He was born September 7, 1957, in Monroe Louisiana to Cleophis and Malissia Robinson Mack. He attended Como and Arlington Heights High School in Fort Worth, TX. After High School, Eric enlisted with the US Army. He married Barbara J. Williams on July 6, 2006. Eric worked for the Sulphur Springs High School for 13 years.
Eric is survived by wife, Barbara J. Williams Mack, son, Osborne "Lil'40" Mitchell of Dallas, step-daughter, LaTronda Williams of Dallas, step grandchildren, Adrienne, Kahille, and Malik, step-great-grandchild, Layla, brothers, Gary K. Mack and Osborne "Bubba Clark" Mack, sisters, Beverly Gayle Mack-Davis and husband Charles, and Wendy Mack-Charles and husband Robert all of Fort Worth, and many nieces and nephews.
He was preceded in death by his parents.
Arrangements are under the direction of West Oaks Funeral Home.