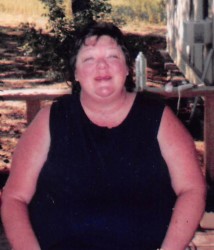 Memorial service for Patricia Ann Sanders Franklin, 61, of Sulphur Springs, will be held on Saturday, May 23, 2015 from 6:00 to 8:00 p.m., at West Oaks Funeral Home Chapel. She passed away on Monday, May 18, 2015 at Hopkins County Memorial Hospital.
She was born on October 3, 1953 in Sulphur Springs, the daughter of Louis J. Sanders and Oleta Ragan Potts they survive. She is also survived by daughters Tracy Beck and husband John Jr. of Paul's Valley, OK, Sherry Page and Quon Clayton of Sulphur Springs, son, Jason Page and wife Stephanie of Sulphur Springs, and daughter, Tonya Johnson and husband Larry of Sulphur Springs, brother, Michael Sanders and Lynette of Sulphur Springs, sister, Donna Donald of Emory, 13 grandchildren and 1 great-grandchild.
She was preceded in death by one brother, Jackie Sanders.
Cremation arrangements are under the direction of West Oaks Funeral Home.