B. and J. (last names not used for security reasons) have ties to Sulphur Springs. Now one month following the devastating earthquakes they race against time to assist the people affected. Monsoon season begins soon. Shelter is needed. The following is their story told in their words and photos…
April 25th – the day the earth shook! Who knew that one month later, there would have been more than 250 aftershocks registering 4.0 or higher…with fears, concerns, and predictions of continued dangerous aftershocks continuing in the days to come?
The statistics are staggering.  Some current estimates-
Over half a million homes destroyed…
About half a million more damaged/unsafe to live in
Over 8,200 deaths
Over 100,000 treated for injuries
Entire villages wiped out
Others left empty, with people fleeing in fear of aftershocks/landslides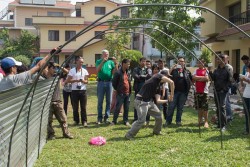 In the initial days, we were able to show/share God's love through the ministry of local Nepali churches and Baptist Global Response (gobgr.org) – a ministry of the Southern Baptist Convention trained and mobilized to respond to disasters worldwide.  The focus was on assessing the situation and finding the area(s) of greatest need, which we could help meet.  The basic essentials of food and water were the most pressing needs so we partnered with BGR and began to organize distributions in the hardest hit areas.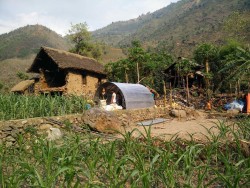 The monsoon will begin in the next few weeks, so we are currently partnering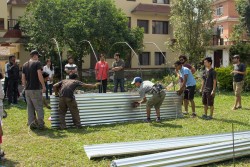 with local churches/leaders to construct simple structures to shelter families (and whatever possessions they were able to salvage) from the coming rain(s).   These temporary shelters can be used for the next 6-12 months and then the tin sheets can be utilized in more permanent re-building efforts as roofing materials.  Each basic shelter costs approximately $100 (with all materials, transportation, and training to construct).  Hopefully, these small steps of food and shelter will provide a return toward 'normalcy' and allow the families to resume their daily routines and begin working in their fields again, planting rice…finding hope and courage to become self-sustaining.
Other projects our team is involved in include the distribution of health and hygiene kits to prevent (or reduce) the spread of sickness and disease as displaced peoples are and will be living in very close quarters for the foreseeable future.  We are also working to provide high yield seed for planting, as many lost this year's supply of seed as it is stored in the attic/upper room of their homes, which crumbled in the quake.
This next week, we are planning to travel into a remote area (accessible only by walking) to partner with local churches to help provide materials for shelters and assess other needs.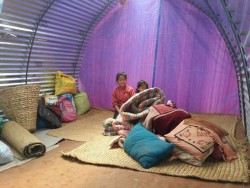 Long after the mainline media has moved on from this story, Nepal will be working to re-build homes and lives.  Please continue to remember us in your thoughts and prayers.
If you are interested in providing financial assistance for the relief efforts, tax deductible contributions can be sent to BFI Ministries, PO Box 795, Sulphur Springs, TX 75483.
Being the feet – Romans 10:15… b and j