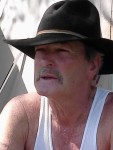 Glenn Dean Armstrong, age 64, of Alba, passed away, Thursday, April 30, 2015, at his home.  Funeral service is scheduled for
Wednesday, May 6, 2015, 2:00 PM
at the Wilson-Orwosky Funeral Home Chapel in Emory.  Visitation will be 1 hour prior to the service at
1:00 PM
.  Brother David Baker will officiate.  Interment will follow in the Silver Lake Cemetery in Grand Saline.
Glenn was born on May 3, 1950, in Grand Saline to Marvin Lee and Dorothy Evelyn Wimpy Armstrong.  He worked all his life as a self-employed carpenter.
He is survived by his 3 sons:  Kevin Eugene Armstrong of Alba, Kenneth Glenn Armstrong of Dallas and Jeffery Dale Franks of Sulphur Springs; 1 daughter:  Karla Gayle Armstrong of Dallas; 2 brothers:  Charlie Armstrong of Terrell and Danny Lee Murphy of Conroe; 2 sisters:  Marvon Horton of Emory and Brenda Clark of Kaufman; 10 grandchildren; 11 great-grandchildren; numerous niece and nephews; family friends:  Robert and Dana Davenport and children – like grandchildren: Eli and Jacob Dabbs; numerous other family and friends.
Preceded by:  parents; 3 sisters:  Paula Armstrong, Jenny Langley and Peggy Miller; 2 brothers:  Douglas Armstrong and Morris Armstrong; and 1 daughter:  Miranda Armstrong.