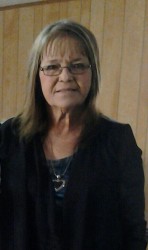 Funeral services for Denna Riley, age 57 of Sulphur Springs will be held at 2:00 p.m. Thursday, May 21, 2015 at League Street Church of Christ with Rev. Mike Eason officiating.  Interment will follow at Restlawn Memorial Park with Mike Comer, Marlon Comer, Kenny Comer, Brandon Blevins, Reggie Blevins, Jr. Brad Horton and Brian Adams serving as pallbearers.  Honorary pallbearers are Kyle Green, Alex Peek, Bradley Peek, Anthony Pennington and Tristen Pennington.  Visitation will be held from (Noon) 12:00 – 2:00 p.m., prior to the service at the church.
Denna passed away on Monday, May 19, 2015 at Sunny Springs Nursing Home.  She was born on November 11, 1957, the daughter of Virgil Lincoln and Lois Bernice (Sutton) Robinson in Commerce.
She was a homemaker and a member of the League Street Church of Christ.
Survivors include daughters, Joanna Bailey of Sulphur Springs and Christina Pennington and husband, Jason of Sulphur Springs; sons, Tony Peek of Sulphur Springs, Jacob Riley of Sulphur Springs and Justin Riley and wife, Jennifer of Sulphur Springs; sisters, Ermal Williams of Saltillo, Juanita Williams of Sulphur Springs, Mary Stonaker of Sulphur Springs, Suela Hearn of Pickton and Theresa Blevins of Sulphur Springs; brothers, Jimmy Robinson of Sulphur Springs and Gary Robinson of Alba; grandchildren, Kyle Green, Alex Peek, Bradley Peek, Brook Peek, Shane Woodfin, Jaydon Peek, Harley Boles, Sidney Boles, Anthony Pennington, Tristen Pennington, Aiden Riley, Issac Riley and Eli Riley and great-grandchildren, Zakaylan Peek, Alex Peek, Jr., Jacelynn Simmons and Brynlie Swann.
She was preceded in death by her parents and one brother, Marvin Robinson.
Memorials can be made to Denna Riley Fund c/o Alliance Bank, Sulphur Springs.