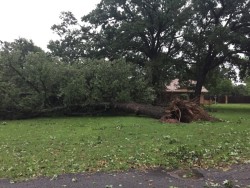 The City of Sulphur Springs is opening the Spring Clean up dump site for green waste (trees, limbs, etc) from Monday's storm damage according to City Manager Marc Maxwell. Maxwell said the site will be open each day this week from 7 a.m. until 4 p.m. for city residents only. You will need to take identification and a recent water bill from the city.
Residents are asked to tie down brush that is halled to the disposal site. He stated green waste would be piled up and burned.
The disposal site is located east of Flowserve.