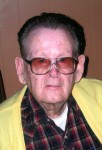 Graveside services for Willie Ray Mitchell, age 77 of Sulphur Springs will be held at 2:00 p.m., Sunday, April 26, 2015 at Oak Lawn Cemetery in Cooper with Bro. Dan Smith officiating.  There will be no formal visitation.
Willie passed away on Thursday, April 23, 2015 at Kindred Hospital in Dallas.
He was born the son of Vernon Smith and Beula (Hostkins) Mitchell on March 15, 1938 in Broken Bow, OK.  He married Ella Gillham in July, 1986 in Pecan Gap, TX.
He was a retired welder and preacher.  He was of the Church of God faith.
He is survived by his wife, Ella Gillham; daughters, Beverly Kelly and husband, Jimmy of Waldron, AR and Wynall Wilson and husband, Leonord of Heartshorn, OK; son J.R. Mitchell and wife, Jerry Ann of Texarkana, AR; fourteen grandchildren; thirty-five great-grandchildren; seven great-great-grandchildren; sisters, Vonail Durell and Arlecey Daniels and brother, Charles Mitchell.
He was preceded in death by his parents and two sisters.