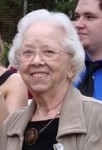 Funeral Service for Frances Mozelle Conway, 94, of Sulphur Springs, will be held at 11:00 a.m., Tuesday, April 7, 2015 at South Liberty Baptist Church with Bro. Joel Tiemeyer officiating. Interment will follow at South Liberty Cemetery with Chris Rosamond, Chris Voorheese, Matt Rosamond, Dennis Dorris, Dusty McAfee, and Tyler Rosamond serving as pallbearers. Honorary pallbearers will be James Birchfield and Carson Voorheese. Visitation will be held from 5:00 to 7:00 p.m., Monday, April 6, 2015 at West Oaks Funeral Home.
Mrs. Conway passed away on Wednesday, April 1, 2015 at her residence. She was born on November 30, 1920 in Red River County, TX, the daughter of Eugenia Irene Knight Wood and Hoida Martin Wood, Sr. After her mother's death, she was lovingly parented by her grandmother, aunts and uncles. She married Albert Campbell Conway on September 3, 1939 in Jacksonville, TX. He preceded her in death. She was a homemaker and member of South Liberty Baptist Church.
She is survived by son David Conway and wife Kathleen of Sulphur Springs, daughter, Dawn Sheffield and husband Joel of Sulphur Springs, grandchildren, Kaley Conway McAfee, Chris Rosamond, Lori Rosamond Voorheese, Matt Rosamond, Emily Sheffield, Kacy Sheffield Bunte, great-grandchildren, Ashlin Rosamond, Tyler Rosamond, Valori Voorheese, Calli Voorheese, Carson Voorheese, Avery Rosamond, Brooks Rosamond, Joel Bunte, Keaton McAfee, JoAnna Rico Valentin, Vanessa Rico, Ciarra Rico, and great-great-granddaughter, Ana Valentin.
In addition to her husband, Mozelle is also preceded in death by her parents, brother, H.M. Wood, Jr., and sister, Irene Gatlin. In lieu of flowers, memorials may be made to South Liberty Cemetery Association at 6489 FM 1567 W, Sulphur Springs, TX 75482.
Arrangements are under the direction of West Oaks Funeral Home.