As construction continues, early registration is underway. Although classes will not be offered at the future home of the Paris Junior College campus in Sulphur Springs, classes will continue at their current facilities between Sulphur Springs High School and the Regional Civic Center.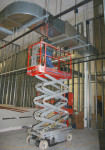 WORK CONTINUES
Construction continues at the future home of Paris Junior College-Sulphur Springs Center as workers erect the framework and air conditioning system for classrooms inside the main building. The future campus of PJC-Sulphur Springs is located on East Loop 301 on the former Foxworth-Galbraith Lumber Co. site. Construction also continues on the building to house the welding program on the Sulphur Springs campus.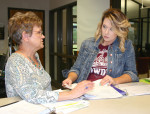 SIGNING UP
Audra Huie of Dike, right, who plans to one day be a nurse, is taking advantage of early registration to sign up for classes at Paris Junior College-Sulphur Springs Center. Assisting Huie is Sulphur Springs Center secretary Linda Meier. Early registration continues daily at the PJC-Sulphur Springs campus, located at 1202 W. Houston St. Academic and financial aid advisors are available during office hours.