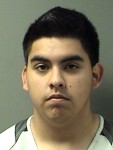 A 19-year old Sulphur Springs man was arrested for breaking into a home with the intent to burglarize the residence on Tuesday. The Sulphur Springs Police Department received a report of a suspicious person entering a home in the 200 block of Craig Street just after 11:30 a.m. Tuesday. When the first officer arrived on the scene, he noticed back doors at the home were closed.
When other officers arrived, they saw that one door had been opened. A man was found hiding behind a storage building in the back yard. The man confessed to entering the home with the intent to steal things.
Jesus Castro was charged with burglary of a habitation before Justice of the Peace B.J. Teer who set bond at $50,000.