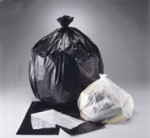 Film extruder and bag producer Aluf Plastics Inc. has opened a plant in Texas that stretches its geographic reach. A building at 1212 Elm Street in Sulphur Springs was purchased approximately 45 days ago. According to a company spokesperson, Aluf, based in Orangeburg, N. Y, is the second largest film extruder and bag pastics producer in New York State. The company makes all types of trash bags and plastic bags including branded bags for such companies as Home Depot and Brookshire grocery. They also make private label bags for specific retailers. Aluf expects to employ more than 40 at the site in the coming months. A company spokesperson stated the company is excited to be locating in Sulphur Springs. 
A family owned business, it is also a woman owned business. Susan Rosenberg has been leading the company since 2008. Aluf ranked 61st in the most recent Plastics News survey of North American film and sheet manufacturers, with an estimated sales of $105 million. 
"We're pumping in serious capital to bring the plant up to standard," said David Anderson, vice president of operations. The company is spending on automation and new technology to make its polyethylene bags locally. The project should lift its extrusion and bag capacity to about 200 million pounds per year, Anderson estimated.
In a news release, Aluf CEO Rosenberg said the company will expand its distribution to existing clients thoughout the Southwest region, while bringing new distributors and retailers into the Aluf family. The company likes the location of Sulphur Springs. Close to the Dallas-Fort Worth metro area and near strategic ports will bring the company closer to some customers while allowing the company to also export bags
Aluf makes a wide range of low and high density polyethylene consumer and commercial bags for trash, recycling and industrial packaging. It touts its hexene-type LDPE bags as being extra tough. It uses recycled resin in many of its products. Some contain Microban antimicrobial additive to deter bacteria and other odor-causing organisms.
Comments from Aluf VP of Operations:
Comments from Roger Figley, Sulphur Springs Economic Development Executive Director