Memorial Services for Que Brittain, 68, will be held 11 a.m. Wednesday, April 1, 2015 at Cross Timbers Community Church in Argyle. Brittain died Sunday following a battle with cancer. Brittain, who grew up in Sulphur Springs, was a high school star athlete at Sulphur Springs High School and went on to be a three-year starter at offensive guard for SMU in the late '60s. His athletic prowess turned to coaching and he became a state title winning coach.
Brittain graduated Sulphur Springs High School in 1965. An All-State offensive lineman, he was inducted into the SSHS Athletic Hall of Fame in 1994.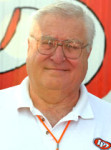 Brittain not only trained athletes to play the game but influenced some of the top coaches in the Dallas area including Joey Florence, who recently retired at Denton Ryan,Denton's Kevin Atkinson, and Argyles' Todd Rodgers.  Others influenced include Cody Vanderford, Bob Bounds, Bart Helsley, and Derick Robertson.
As a head coach Brittain's record was 122-79-4. At the time of his death, he was working with one of his former assistants, Mike Burt at Joshua. Brittain had resigned at Flower Mound Marcas, where he led the school to the 5-A, Division II state final in 1995 (a loss then) and won the state title in 1997 in 2000. In his 15 years there, he tansformed the program using a high powered offense invigorated by a string of helpful assistants. His coaching career found him at Euless Trinity under John Reddell, in McKinney with Ron Poe, and in Lewisville.
In an interview with KSST Radio, Wildcat Head Coach Greg Owens paid tribute to Brittain's coaching prowess.