Miller Grove High School announced seniors William Clinton and Mika Massey (center) as 2015 Homecoming King and Queen just after winning the varsity basketball games against Savoy Cardinals Friday night at the Miller Grove High School Gymnasium.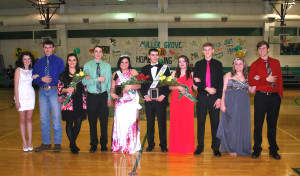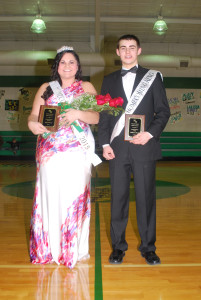 Also pictured are (from left) seniors Destri Danley, Tatom Sink, 2nd Runners-Up Lilla Csenkey and Logan Miller, 1st Runners-Up Lacey Taylor and Dustin Emerick, Miranda Frobish, and Aaron Smith.
Also announced were 2015 Miller Grove Basketball Beaux Logan Miller (senior) and 2015 Miller Grove Basketball Sweetheart Aleigh Bessonett (sophomore).