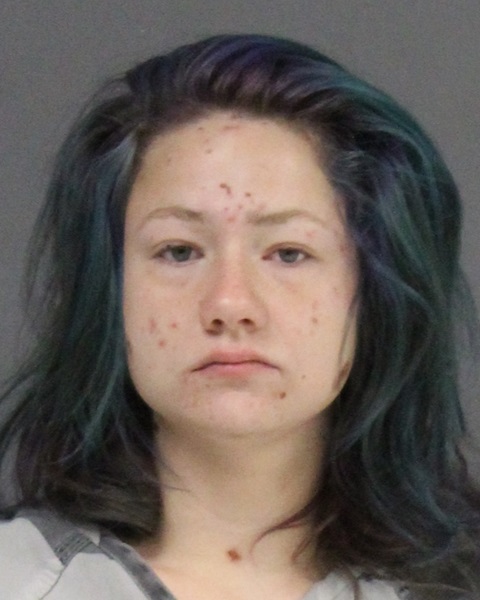 November 20, 2023 – Sulphur Springs Police were dispatched to a local apartment complex late Saturday night to a report of a person trying to enter vehicles in the parking lot. The caller indicated to dispatchers that a white female was observed pulling on door handles of various vehicles. Officers arrived on scene and observed a female sitting inside a vehicle that turned out to not belong to the suspect.
The subject verbally identified herself with fictitious information as responding officers on the scene knew the true identity of the suspect. Alyssa Renee Cockrum was placed under arrest for misdemeanor charges of Burglary of a Vehicle as well as Failure to Identify and transported to the Hopkins County Jail. During check in at the Hopkins County Jail, officers found a clear bag with a white crystal like substance believed to be methamphetamine weighing approximately 6.60 grams with packaging. Officer's suspect the weight of the drugs at less than 1 gram. An additional felony charge was added for Possession of Controlled Substance Penalty Group 1 less than 1 gram.
The suspect proved to be combative while in custody, and as jail staff attempted to detain Cockrum, a jail guard was hit in the face on multiple occassions and since Cockrum knew the jail guard was a public servant, an additional charge of Assault of a Public Servant was added to the list of charges. The latest charge is a third-degree felony.
Alyssa Renee Cockrum remains in the Hopkins County Jail with bonds set at a total of $50,000 so far.
KSSTRadio.com publishes Sulphur Springs Police Department reports and news. The Police Department is located at 125 Davis St., Sulphur Springs, Texas. Non-emergency calls can be made to (903) 885-7602.
If you have an emergency dial 9-1-1.
The Sulphur Springs Police Department continues to serve its citizens with pride in its overall mission and will strive to provide the best possible police force in the 21st century.
If you have an emergency, dial 9-1-1
The Hopkins County Sheriff's Office is located at 298 Rosemont Sulphur Springs, TX 75482. You can reach them for non-emergency matters at (903) 438-4040.