Lake Country CASA is hosting their annual CASA COOKIE WALK, Friday, December 1 st at First United
Methodist Church from 9 am – 12 pm.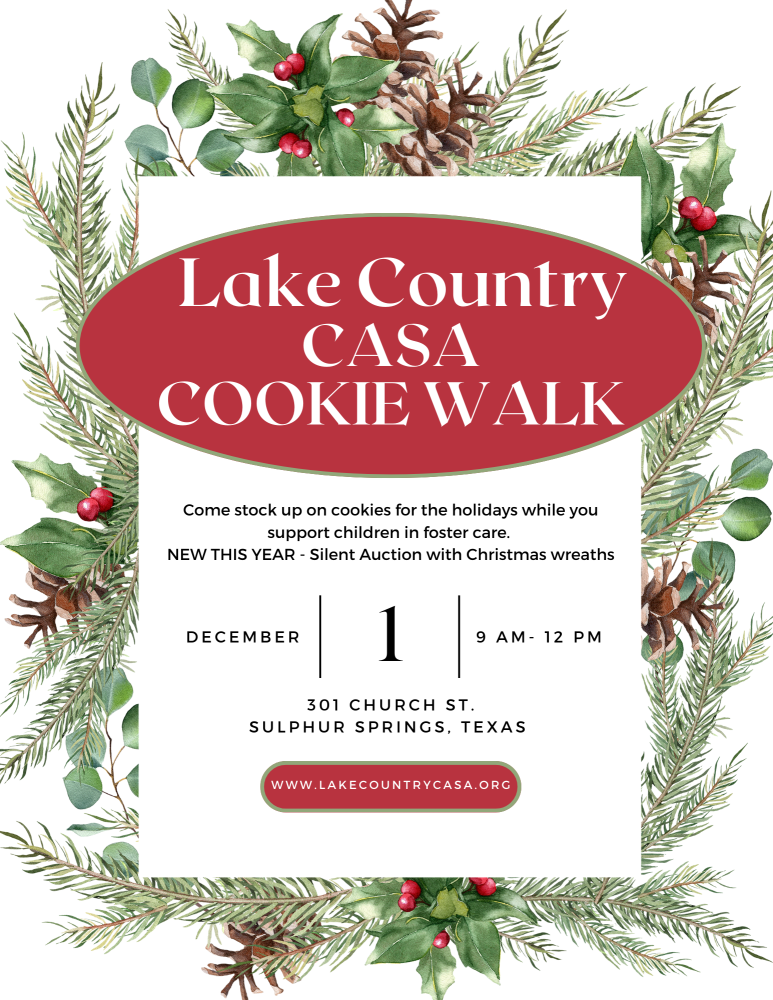 A variety of cookies and other sweet eats will be offered for a $10 per pound donation (or more if you are feeling generous) Dec. 1, 2022, at First United Methodist Church Family Life Center, 301 Church St. (across from the Post Office).
There will be lots of delicious cookies donated by members of the community, as well as several local professional bakers, so make time to stop by and stock up on your favorite cookies for this holiday season.
CASA has added a silent wreath auction this year that will be held at the Cookie Walk. Visit their social media to see pictures of the wreaths that will be available for auction. The wreaths will be displayed in the window of the Chamber of Commerce in the weeks prior to the event.
Finally, CASA is pre selling Christmas sweatshirts for $30 each. You can find the two designs on their Facebook page and can comment to place your order. There will also be some sweatshirts available for sale at the Cookie Walk.
All proceeds raised from this event will help continue providing quality advocacy to children in foster care in Hopkins, Rains, and Franklin counties.
CASA is dedicated to helping children who have been removed from their homes and placed into the foster care system.
In cases where children enter the foster system because their homes are deemed or alleged to be unsafe, a judge may appoint a committed volunteer whose only focus is on that child, giving hope and help in guiding the child to a safe, permanent home.
CASAs work to ensure that every child who needs an advocate to speak for his or her best interests before the courts has a caring, trained adult to help them during this difficult time in their life.
Donations are accepted to help support the CASA program, to provide funding for advocacy efforts and things the children CASA is entrusted to represent wouldn't have if not for the organization. Donations may be made:
For more information about Lake County CASA, becoming a CASA or a foster family, call 903-885-1173 or stop by the CASA Cookie Walk Friday morning at FUMC.