Breaking all recent records, the Paris Junior College baseball program is sending seven players to the Texas New Mexico Junior College All Star Game being played Friday and Saturday, September 22-23, at Dallas Baptist University.
"We're excited for this group," said PJC Athletic Director and Head Baseball Coach Clay Cox, "they obviously had a strong freshman year and that's why they've been selected to play in the All Star game by the coaches across the conference. It's our largest group in the time we've had here. This is a group that looks to go out and compete and show well for us."
The sophomores representing PJC are pitcher Carson Blakely of Hallsville; infielder/outfielder Jackson Braun of Spring; infielder Preston Gamster of Dallas; infielder Ethan Guerra of Olathe, Kansas; pitcher Caleb Jameson of Paris; pitcher Garrett Villa of La Porte; and outfielder Ashten Wong of Frisco.
PJC will play for the National Junior College Athletic Association Region XIV East team at Dallas Baptist University against Region 5 West at 12:30 p.m. Friday and against Region 5 North at 2:30 p.m. Saturday. The games will be streamed on https://tsbnsports.com/. To see more information on PJC's six athletic teams, go to www.parisjc.edu/athletics.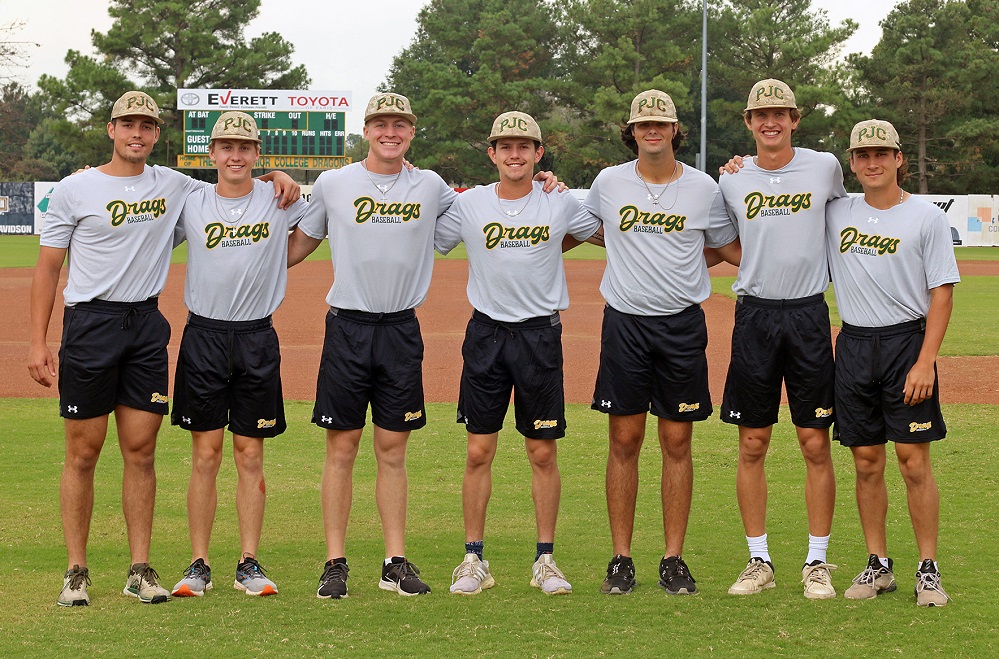 Photo cutline:
PJC baseball is sending seven sophomores to play in the TXNMJC All Star game this week. From left are Ashten Wong, Jackson Braun, Caleb Jameson, Garrett Villa, Carson Blakely, Preston Gamster, and Ethan Guerra.
---
Paris Junior College — located in Paris, Texas, about 100 miles northeast of Dallas — has been a part of the Lamar County community since 1924.
Paris Junior College offers Associate in Arts, Associate in Science and Associate in Applied Science degrees, as well as Certificates of Proficiency in technical/workforce fields. The college has expanded its academic curriculum through the years to encourage associate degree and university transfer candidates. Since establishing its first vocational program — jewelry and watchmaking in 1942 — the college has been aggressive in adding technical/workforce programs that will benefit students entering the workforce.
The campus of 54 tree-shaded acres includes 20 major buildings and residence halls and provides students a unique and pleasant environment for learning.
Paris Junior College also operates centers in Sulphur Springs, Texas, and in Greenville, Texas.
Vision
To be the educational provider of choice for the region.
Mission
Paris Junior College is a comprehensive community college serving the region's educational and training needs while strengthening the economic, social and cultural life of our diverse community.