We are gearing up for the 54th Annual Hopkins County Stew Festival, so be looking for sponsorship and registration forms which will be going out this week.
The stew festival is set for Saturday, Oct. 28, at Buford Park, with the annual concert, appetizer contest and other activities starting on Friday, Oct. 27.
Our sponsorship forms will be mailed out this week, and registration forms for stew cooks will be online later this week.
Mark your calendars and get ready for one of the biggest and best stew festivals ever!
Business After Hours
Join us for a fun and interactive Business After Hours this month at Northeast Texas Gellyball from 4:30 p.m. to 6 p.m. Thursday, June 15.
NET Gellyball has not only the paintball-type game but also axe-throwing and other fun activities.
Business After Hours is a great way to interact and network with other business professionals and members of the community. You don't have to be a Chamber member to attend and there is no cost.
NET Gellyball is located at 1151 South Broadway in the Spring Village Shopping Center.
Leadership Sulphur Springs
Even if you think you know Sulphur Springs and Hopkins County, you are sure to learn a lot through Leadership Sulphur Springs, which is back on this year, with applications online! The leadership class is for Hopkins County men and women who want to learn and become more invested in their local community. It's an intensive nine-month program that immerses the participants in the business and government of Sulphur Springs and Hopkins County. The tentative dates for this year's program are attached to the application, which can be accessed at HopkinsChamber.org.
The registration fee is $500 and that covers the cost of the food, drinks, transportation, etc. for the year.
Journey Road Ministries Fundraiser
The 3rd Annual Journey Road Ministries Golf Tournament is set for June 26, at the Sulphur Springs Country Club, with a 4-man shotgun start at 8 a.m. The $400 entry fee includes lunch and two golf courts.
Register at JourneyRoadMinistries.com.
Journey to Joy
Camp Brave Heart, a grief camp for children ages 6-12 sponsored by Cypress Basin Hospice, is scheduled for 8:30 a.m. to 12:30 p.m. June 22 and 23 in Sulphur Springs. The theme is Journey to Joy: Navigating Life Together.
For more information, visit cbhospice.org.
Hopkins County Law Enforcement
The Hopkins County Law Enforcement Association will have a Golf Tournament fundraiser at the Sulphur Springs Country Club on Aug. 21. The four-person teams will tee off at 10 a.m. For sponsor or player information, call Michael Russell at 903-438-4040 or email [email protected].
Wedding Expo
The DIY Wedding Expo is coming back to the Civic Center from noon to 5 p.m. on Sept. 23. For more information on sponsorships or vendor spaces, contact Tracey Treadway at 214-683-7669 or [email protected].
Ribbon Cutting
DKSC East Texas hosted a ribbon cutting at Coleman Park on Wednesday, June 7, as part of their soccer camp. Please welcome them to the community.
Bubble Speech Therapy hosted a ribbon cutting on Tuesday, June 6, in their office inside the Chamber building, 110 Main St. Please welcome them.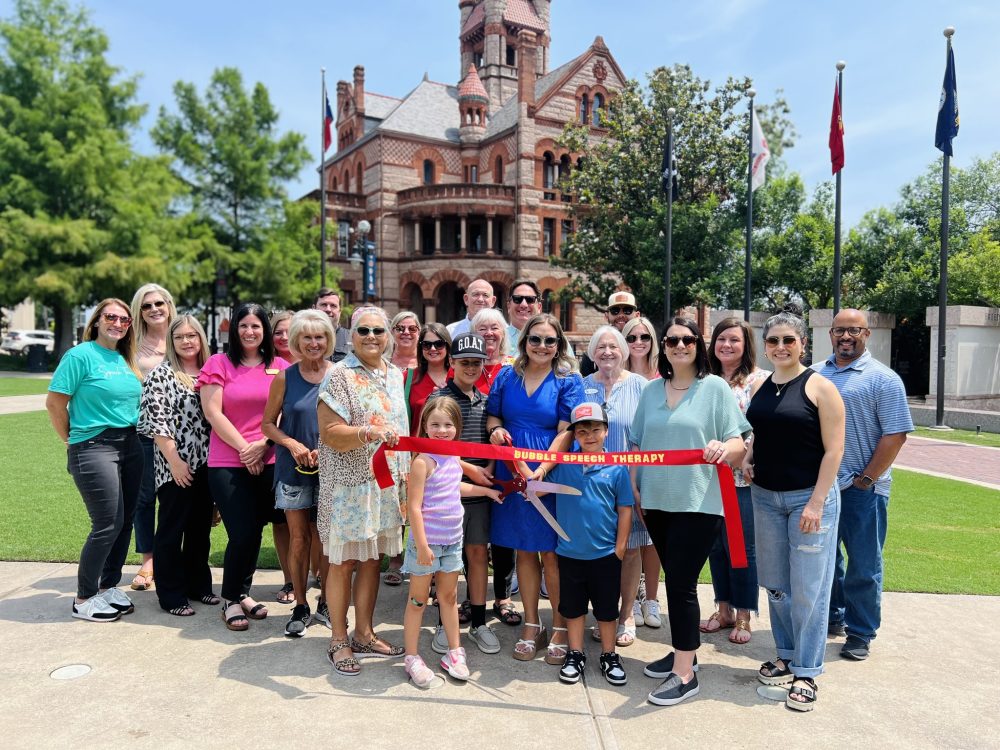 The Yard at the VFW will host a ribbon cutting at noon on Wednesday, June 14, at the post on 1 Veterans Drive. Please join us for this event.
The Pines RV and Resort will have a ribbon cutting at noon on Friday, June 16, at their facility located at 4069 CR SE 4250 in Mount Vernon. Please join us if you can.
Designs by Vivian will host a ribbon cutting at noon on Wednesday, June 21, at the shop in Shannon Square. Please join us for this event.