SSHS 2023 Senior Awards
Sulphur Springs High School 2023 Seniors received scholarship offers and military awards during the annual Senior Awards Ceremony. Scholarship offers totaled at least $1.5 million, excluding athletic scholarships as those are still being calculated by the school district.
The SSHS Senior Class of 2023 honor graduates, valedictorian and salutatorian, UIL Scholars, National Merit Scholar, and senior state Academic UIL qualifiers and winners were also recognized during the program.
Colby Glenn ($1250), Sallee Spraggins ($1500), Jocelyn Janez ($750), Madelyn Sherman ($500) were recognized for their efforts in last year's Dairy Festival.
Sherman also was awarded $1000 from the PACE Scholarships.
Sulphur Springs ISD Education Foundation Scholarships in the amount of $2,500 each were awarded to Jayla Abron, Axel Garcia, Colby Glenn, and Camilla Martinez. Glenn also received a $500 Patsy Bolton Scholarship from the Education Foundation.
Abron, Miley Fisher, Maddie Schmidt, and Khira Young were awarded a $1,000 Lions Club Scholarship.
Matthew Clarke and Khira Young received $650 MLK Legacy Award Scholarships. Jadyn Harper and Colby Glenn got the $1000 scholarship from the foundation. Clarke also received the Landon Brody Dyer Memorial Scholarships in the amount of $1,000. Clarke also got the $1000 Sulphur Springs Adult Leadership Association scholarship.
Miley Fischer was awarded the Ceely Blair Stout scholarship for $9200.
Grocery Supply Company Scholarships in the amount of $2,000 each went to Axel Garcia, Colby Glenn, Martha Gonzales and Aubrey Williams. Williams also received $750 from the Sulphur Springs HS Band Booster Club. Khira Young and Martha Gonzales were awarded $1,000 Coca-Cola Scholarships.
Colby Glenn received $500 more from the Hopkins-Rains Retired School Personnel.
Ashlyn Hooten was awarded the Teen Court scholarship.
The Kiwanis Club in the amount of $1500 each went to Colby Glenn and Isabel Thesing.
Recognized for their commitment to the U.S. Air Force was Jasmine Rodriguez; to the US Marines was James Maynard and Colby Ray Walker.
Rodriguez and Walker enlisting qualifies them for the Montgomery G.I. Bill which covers four years of tuition as well as lodging, as well as a stipend for any books they need to purchase. On top of that, enlisting in the state of Texas qualifies the two future enlistees for the Hazelwood Act; covering 150 credited hours at the university of their choice.
Tammy Carrell presented Maynard and Rodriguez with Sgt. Tanner Stone Higgins Military Scholarships. The awards are given in memory of the SSHS graduate and Army Ranger killed 10 years ago in Afghanistan. Funds come from the nonprofit foundation established in Higgins' name are raised through a Warrior Run, held annually in April to remember Sgt. Higgins. The foundation provides funds to assist graduating seniors entering any branch of the US Armed Forces, to help military personnel transitioning back to civilian life, as well as military families. Maynard received a $700 scholarship and Rodriguez $1,000.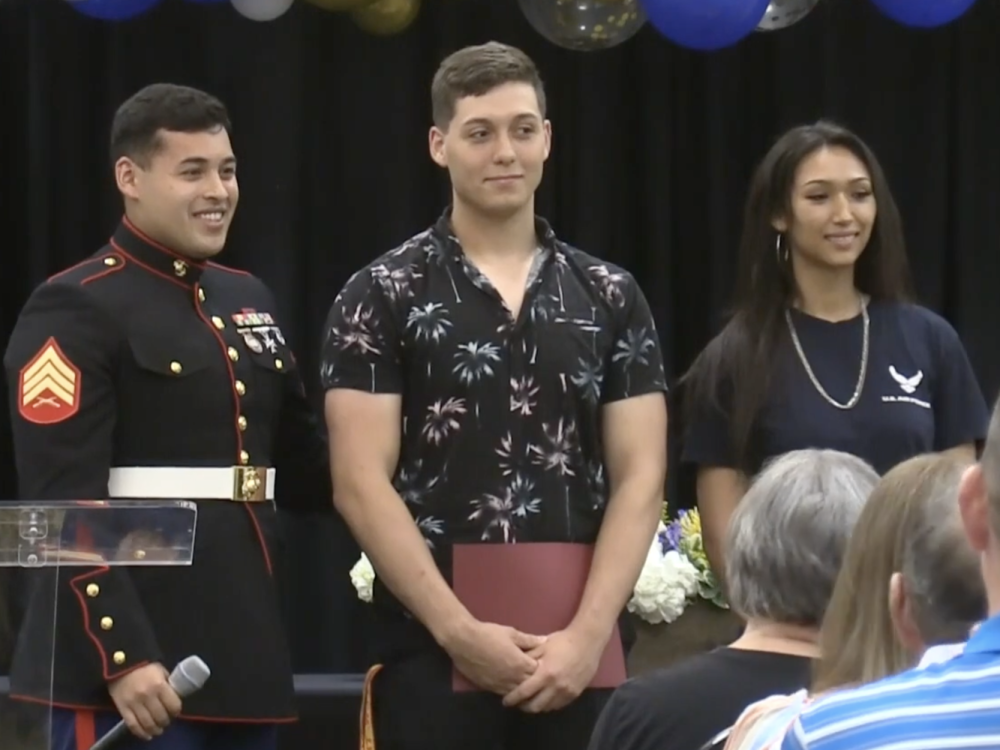 Christlin Begunos received $1000 for the Helen Ewing Ditto True Grit Award.
Mother's Culture Club awarded $1000 each to Jillian Jumper and Madelyn Sherman. Forest Elective Cooperative Scholarship gave Sherman another $500.
The Freedom Ball awarded $1000 each to Martha Gonzales and Olivia Worth. Kathryn De La Rosa received the $750 Charles McCauley Memorial Scholarship.
Another large amount announced at the May 16, 2023 SSHS Senior Awards Program went to student athletes. Fifteen students amassed scholarship offers to play college sports.
They include: Crimson Bryant to play at UT Tyler; Aubrey Camacho playing soccer at LeTourneau University; Nick Cantillo, football, Southern Nazarene; Emory Clayton for cheer at ETBU; Sean Dial playing football at Henderson State; Riley Hammonds, football, Missouri Southern State University; Jadyn Harper playing softball at Langston University; Caleb Kesting playing golf at ETBU; Branson Lynn playing basketball at LeTourneau; Matt Mitchell playing baseball; Isabelle Thesing playing soccer at Maine Maritime Academy; Kordrick Turner and Parker Whisenhunt playing basketball at Paris Junior College; CJ Williams playing football at University of Central Oklahoma; and Kenzie Willis, basketball, at Collin College.
The 2023 James Cameron Fighting Heart Award recipients were MyKylie Meador, Kenzie Willis and Branson Lynn. The 2023 Forest Gregg MVP Award recipients were Laney Hurst, Sean Dial and Matt Mitchell.
Receiving $1,000 Jake C. Wilson Memorial Scholarships the year was Colby Glenn. Junior Waverly Club awarded the reigning Dairy Festival Queen a $750 scholarship. She also got $500 from the Faulk Company Scholarship.
Jillian Jumper, MyKylie Meador and Kaylee Schumacher were each awarded $200 Allarea Black scholarships. Jumper too received a $250 Peggy Reynolds Dallas Morning News Scholarship. Mykylie Meador got $500 on a scholarship from the East Texas Coaches Association.
Texas Beta Nu from Alpha Delta Kappa gave $100 to future educator Ally Laners.
The $5,000 James Goggans Memorial Scholarship went to Spencer Thurman, Sallee Spraggins, Clancy Mayo, Aubrey Williams, Ella Rae, and getting a $10,000 scholarship is Richard Mayhew.
Zoe Haywood ($250), Lexi McCoy ($250), Aubrey Camacho ($500), and Isabelle Thesing ($1000) all were awarded scholarships from the Sulphur Springs Soccer Association. Haywood also received $1500 from a Mason Scholarship.
Dial Study Club gave a $250 scholarship to Colby Glenn.
The John & Deborah Gillis Foundation awarded $320,000 to SSHS students. Receiving $40,000 each Bright Star Scholarships each were Nick Cantillo, Brooklyn Shackelford, Rebekah Stanley and Addison Wall.
Truitt Smith was awarded a $500 Bobby McDonald Memorial Scholarship. Maddie Schmidt and Rebekah Stanley received $1,000 Sterling and Eva Beckham Memorial Scholarships. Jose Flores got $500 for the Billy Palmer Scholarship.
Wayne Hinton got $1000 on a John Boles Scholarship in memory of the former SSHS Ag teacher. The North East Texas Livestock Association gave Hinton, Tripp Smith and Rebekah Stanley each $1500 scholarships. City National Bank presented $10,000 in scholarships in honor of Rickey Reynolds. Each receiving $2000 in scholarships are Kathryn de La Rosa, Wayne Hinton, Ella Rae, Olivia Worth and Khira Young.
Cassie Clayton Edwards Scholarship Foundation awarded Tia Nash ($350), Jayla Aaron ($950), Tamya Rose ($1750), and Kamiya Sims ($4500) scholarships.
Columbia Lodge #81 gave Jadyn Harper and Kiefer Williams $900 and $1150 scholarships, respectively. Sulphur Springs Rotary Club awarded $5000 scholarships to Jillian Jumper, $8000 to Madelyn Sherman, $3000 to Matthew Clarke, and $2000 to Rebekah Stanley.
Health Occupations Association (HOSA) Future Health Professionals Scholarships in the amount of $750 was awarded to Maleah Doss, with Daniel Elam received a $1,000 HOSA scholarship.
Mali Maeker was awarded $1500 for the Perry F. Bradley Junior Scholarship. Fellow volleyball player Bailey Vice got the Perry F. Bradley III Scholarship for $500.
The $1,000 Clayton and Graves Scholarship went to Alison Peckham.
Kathryn de La Rosa and Axel Garcia both were awarded the $5,000 Jo McCain Trust Scholarship.
Jocelyn Yanez got $64000 on a Merit Scholarship to Baylor University. ETBU gave Emory Clayton a Christian Leadership Scholarship for $18,000 as well as the Dean's Scholarship for $32000. Jillian Jumper got Kansas State's Wildcat Non-Resident Award, receiving $80,355.
LeTourneau University in Longview gave two SSHS students scholarships.
Aubrey Camacho — Founder's Scholarship, $56,000
Branson Lynn — Dean's Scholarship ($68,000) and Trustee Scholarship ($8,000)
Maine Maritime Academy awarded Isabelle Thesing the Admiral's Be The One Scholarship, for $14000.
Oklahoma State gave three students awards:
Miley Fischer — Out of State Achievement Award, $32,000
Drew Hodges — Academic Achievement Award, $28,000
Madelyn Sherman — two scholarships, totaling $53,000
Ouachita Baptist gave Colby Glenn two awards for a total of $80,000.
Luke Caton and Chloe Kerns both received academic excellence awards ($10,000); Karis McGary (receiving two, totaling close to $20,000) all got scholarships from Stephen F. Austin State University.
Several students were awarded the $8,000 Blue & Gold Scholarship from Texas A&M Commerce. They are Kathryn de La Rosa and Axel Garcia. Receiving the Presidential Scholarship and $16000 is Sallee Spraggins. Making it to the Honors College, and getting $45000 is Aubrey Williams. Merrin Williams received both of the aforementioned scholarships plus another.
Matthew Clarke and Brooklyn Shackelford, both heading to TCU were awarded Faculty Scholars Award for $88,000 each.
Texas Women's University gave Khira Young four scholarships totaling almost $30,000. Texas Tech University awarded Olivia Worth the Presidential Merit Scholarship for $24,000.
Two students headed to the best university this side of the Mississippi located in beautiful Austin, TX, Anders Flores and Artesia Cheeks, both got $20,000 with Flores getting another $48,000 from the University of Texas at Austin.
Crimson Bryant and Laney Hurst combined for $18,000 in scholarships from UT-Tyler, with the latter getting 16 of the 18,000.