SPRING CLEANUP – The annual spring cleanup has come to a close and has been a smashing success. The City offloaded over 1,000 vehicles, and sent 52 roll-offs to the landfill.
SENIOR CITIZENS CENTER – The foundation is currently under construction and concrete should be poured soon.
PACIFIC PARK – The new Pacific Park Sports Pavilion foundation is under construction. Concrete will be poured Wednesday. When the pavilion is complete, the old basketball courts will be demolished and the interior of the park will then be graded. Irrigation and sod will then be installed.
COLLEGE STREET – College Street is open down to Patton Street. Water and sewer construction is now complete to Ramsey Street. Water and sewer from Ramsey to Como is currently being installed. Ramsey Street is expected to be completed by the next city council meeting.
STREET IMPROVEMENT PLAN – Following is a preliminary list of streets to be repaved in 2023. It is preliminary because there are no bids yet, hence no pricing. the list will be finalized once there are bids on May 18, 2023.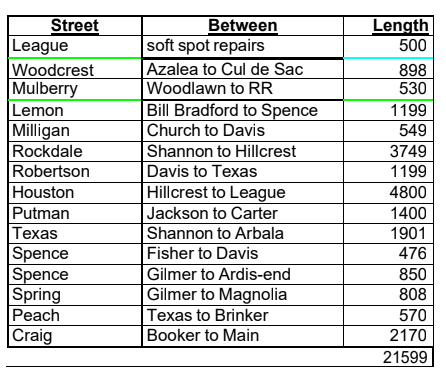 Elsewhere around the city, employees:
Reset school zone timers.
Repaired AC units at City Hall.
Installed cameras at Pacific Park.
Tested tornado sirens… one needs repair.
Replaced filter media on wastewater treatment plant filters.
Performed preventative maintenance on the sludge press at the wastewater
treatment plant.
Treated wastewater to a daily average total suspended solids reading of 0.51 mg/L.
Repaired 5 water main ruptures.
Replaced 58 water meters.
Hauled 735 tons of sludge to the landfill.
Unstopped 20 sewer mains.
Repaired 2 sewer mains.
Flushed 40 dead end water mains.
Treated 128 million gallons of potable water.
Responded to 166 animal control calls while achieving a 74% adoption rate.
Made 8 felony arrests in the Special Crimes Unit.
Responded to 32 accidents, wrote 564 citations, made 54 arrests and recorded 47
offenses in the Patrol Division.
Checked out 2,689 items from the library plus 784 eBooks.
Responded to 254 fire/rescue calls including 1 structure fire, 1 vehicle fire and 3
grass fires.
Cleaned and started the fountains at the Hopkins County Veterans' Memorial.
Ordered flowers for downtown.
Assisted with 53 activities for seniors.
Hosted 1 softball and 1 baseball tournament.
Fertilized sports fields.
Repaired 74 potholes.
Conducted 12 building inspections, 6 electrical inspections, 7 plumbing
inspections, one mechanical inspection, issued 30 building permits and 26 trade
permits.